Half Marathon Back on Track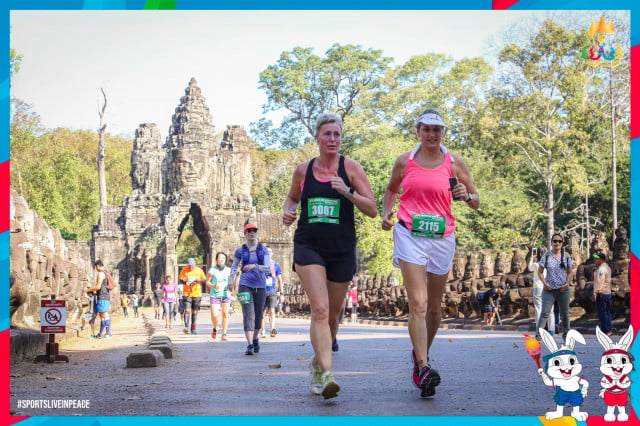 Siem Reap to host the event as lure for tourists
PHNOM PENH – The Angkor Wat International Half Marathon will be held again this year after the COVID pandemic meant the event was scrapped last year.
It will be held on Dec. 19 after the organizing committee got the go-ahead from the National Olympic Committee of Cambodia (NOCC). It will be the 26th time the event has been held.
"As the situation of COVID-19 has eased and the Royal Government is gradually opening up the socio-economic activities with the official announcement of vaccine tourism, the NOCC is preparing to reopen the Angkor-Siem Reap International Half Marathon in December 2021," the NOCC said.
It said it had just received approval from the National Committee for Combating Covid-19 and was waiting for approval from the Cambodian Government.
NOCC secretary-general Vath Chamroeun said the event is a prerequisite for tourism in Siem Reap province.
"We are holding the event in line with the government's announcement of vaccine tourism in Siem Reap province," he said.
"The event will lead us to fully open tourism and we will evaluate the situation at the time."
He said participants will be limited to about vaccinated 2,500 Cambodians and foreigners living in Cambodia.
The NOCC said it is giving priority to participants who registered in 2020. The they can apply for registration from Nov. 4 to Nov. 22. New registrants can register from Nov. 23 to Dec. 1 at the Cambodia Events Organizers' office.
The organizers will arrange a rapid COVID test for participants. However, only those with health problems or high temperatures will need to take the test, Chamroeun said.
He said the organizers and the NOCC have worked with provincial health authorities to manage anyone who tests positive and to prepare places to treat them.
The government on Oct. 26 approved the establishment of vaccine tourism, starting with Preah Sihanouk city, Koh Rong city in Sihanouk province and Dara Sakor tourist resort in Koh Kong province.
Siem Reap province, home to Angkor Wat, will be added to the list of destinations for vaccine tourism in January.
The vaccine tourism program will expand to reopen by regions. If stage 1 is successful, stage 2 will start for visitors to travel to other safe areas. Full reopening for all vaccinated tourists – stage 3 – will follow once the previous stages show positive impacts.
Related Articles