Head of Asura Found at Angkor Thom Gate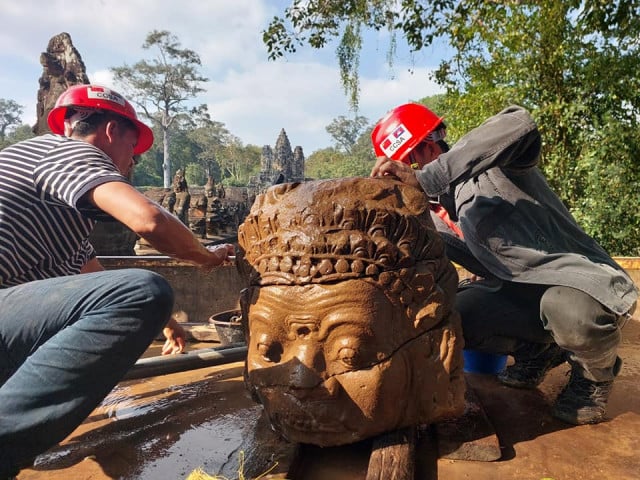 PHNOM PENH – The head of an asura statue has been found near the south gate of Angkor Thom on the site of former stalls, the APSARA Authority says.
Chhouk Somala, head of the art registration team of the Department of Preservation, Archeology of the APSARA Authority, said that after the vendors moved their stalls to the new parking lot in front of Phnom Bakheng, the team went to clean up the old site and found pieces of the asura head on Oct. 19.
"Initially, the team dug 30 to 40 centimeters deep and found three ancient stone fragments. The team then washed and assembled into a single asura head, which is 60cm high, 65cm wide and 59cm deep," Somala said.
The sandstone head is of the Bayon style during the reign of Jayavarman VII and is the same as asura heads standing at the other four gates of Angkor Thom.
The team brought the head to the Norodom Sihanouk-Angkor Museum to clean and repair it properly. The team will also find the original body of the sculpture before reattaching it, the APSARA Authority said.
According to the APSARA Authority, the site was at the Tonle Om Gate or the south gate during the French colonial era. Fragments of the limbs, the body of the dragon, as well as the sculptures of angels and asuras and other pieces are scattered all over the area.
The APSARA Authority said it will continue to excavate and register the sculptures at the site. Researchers will continue to search for more lost sculptures so that they can be reassembled in the future.
Related Articles
February 26, 2020 5:39 AM