Health Minister Thanks WHO for its Support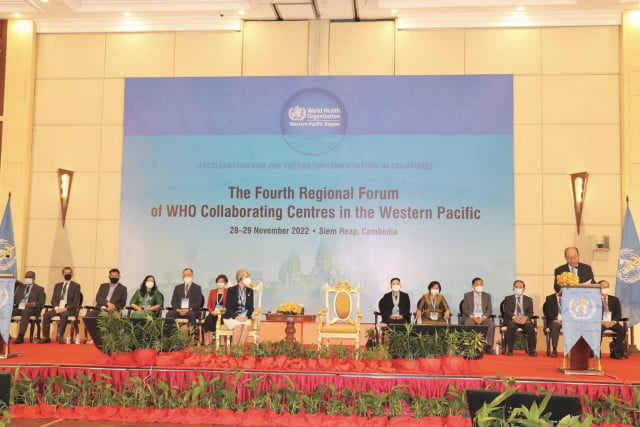 PHNOM PENH – Cooperation, technical and financial assistance from international development partners contributed to improving the health sector and to better the quality of Cambodian health services, Health Minister Mam Bunheng said on Nov. 28.
Speaking at the 4th regional forum of the World Health Organization (WHO) Collaborating Centers in the Western Pacific, which is being held in Siem Reap on Nov. 28 and 29, the minister stressed that thanks to funding from development partners such as the WHO, the government could improve the infrastructures, human resources and the quality of treatments in the health sector.
He added that the WHO has been working with the ministry to promote public health by supporting the development and implementation of strong health policies and providing technical advice on strengthening the public health system.
"WHO has ensured essential health services during global epidemics such as malaria, tuberculosis, HIV and hepatitis. Its support has also been crucial for vaccine-preventable diseases, non-communicable diseases and focusing on primary health care," the minister said.
He went on to say that the technical and financial support from the organization has been particularly helpful during the COVID-19 pandemic, by providing close monitoring of the situation and accurate supplies of medical material.
In addition, Bunheng stated that the international support Cambodia received contributed to achieving some of the Millennium Development Goals (MDGs) in health, making Cambodia one of the few countries in the world to achieve these goals.
"We are proud that Cambodia is a model country for others with limited resources and that have just escaped the war and can achieve their health goals quickly," Bunheng said.
The MDGs are eight international goals established in 2000 by the U.N., which aimed to improve the quality of life of the people. The goals were as diverse as eradicating "extreme poverty and hunger", achieving "universal primary education", promoting "gender equality" and empowering women, or improving maternal health and combating child mortality and HIV.
The goals were divided into 23 targets, which had to be achieved by 2015. Out of the total targets, Cambodia achieved 13 and almost achieved two, according to a 2018 government assessment.
Corinne Capuano, WHO program manager for the Western Pacific, thanked the Cambodian Ministry of Health for hosting the forum and recalled the next priorities in terms of health: The fight against non-communicable diseases and aging, adaptation to climate change, and the importance of preserving the environment.
She stressed that no one should be left without access to health care while encouraging the implementation of health plans and policies.
Related Articles