Health Ministry Advises Those with "Mild COVID-19" to Stay Home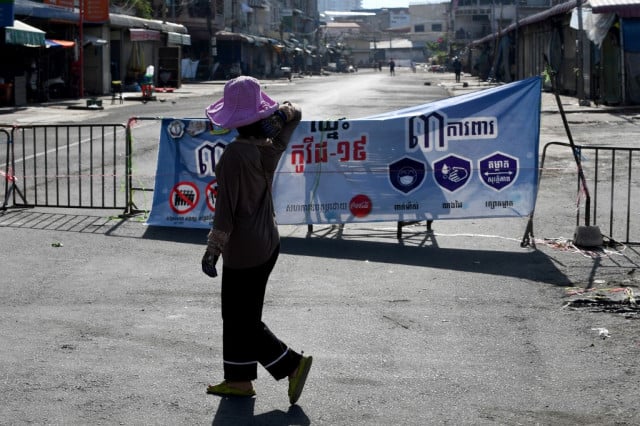 Fearing another shortage of hospital beds, Ministry of Health Spokesperson Or Vandine has warned that those with mild symptoms need to stay home and seek treatment there rather than in hospital
PHNOM PENH--Another 18 patients died of COVID-19 on June 21, bringing the total death toll to 459, according to the Ministry of Health.
Or Vandine, spokesperson for the Health Ministry, said that a new prakas was introduced on June 20 to deal with the growing number of patients who only catch a mild case of COVID-19. This, she said, was to alleviate the burden on the state and to reduce overcrowding in hospitals.
She advised those who have tested positive for COVID-19 to seek medical assistance, but if the doctors conclude that the case is mild then patients should isolate at home and check in with a doctor periodically.
"Patients with severe cases are in need of help in hospital, we cannot help them if the beds run out, so if we ensure that those patients with mild COVID-19 are sent home for treatment, we can save space for severe cases," she said.
But as rights groups have repeatedly pointed out over the course of the pandemic, many Cambodians lack the space at home to isolate and risk spreading the virus to their family members. This is particularly true of those living in rented accommodation, where a family may only have one room.
However, since the Feb. 20 outbreak, there have been numerous points where the number of COVID-19 patients has exceeded the number of beds in hospitals—especially in Phnom Penh.
While the Ministry of Health is still restricting information regarding the number of COVID-19 cases identified each day, on June 22 the ministry reported 678 new cases were recorded nationwide, with 58 of those cases imported. A further 763 people were discharged from medical care.
The responsibility to publish data on COVID-19 cases has been passed down from the Ministry of Health to provincial and municipal administrations, but on a daily basis, many numbers are missing as local governments choose not to publish their COVID-19 findings. The Phnom Penh Municipality has not published data on its COVID-19 cases for almost a month, making it difficult to track the spread of the pandemic or how effective the vaccine drives have been at curbing that spread.
As of June 21, a total of 2,755,194 persons have received both doses of a COVID-19 vaccines, but the vast majority of these are in Phnom Penh.
Now, as of June 22, Cambodia has reported 44,124 cases of COVID-19 and a total of 38,766 recoveries since the pandemic began.
Related Articles