Health Ministry Authorizes Home Treatment for Mild COVID-19 in 23 Provinces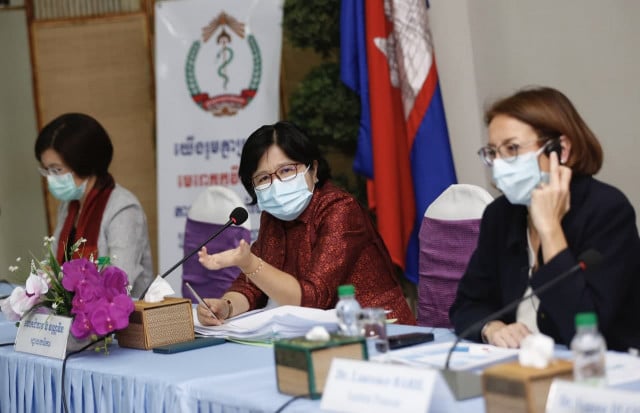 As a shortage of hospital beds looms, the Ministry of Health said it would allow home treatment in all provinces except Kandal Province in the event of mild COVID-19 symptoms
PHNOM PENH--The Health Ministry reported on July 30 that a further 25 people died due to COVID-19, bringing the death toll up to 1,375. This comes after 668 new cases of COVID-19 were identified nationwide, including 428 locally transmitted cases and 240 imported ones.
The Health Ministry did not detail whether these cases involved the Delta variant of COVID-19.
Today's update to the COVID-19 figures saw Cambodia reach 76,585 cases in total, with 69,198 people having recovered.
While confusion reigns in the wake of the government's directive on new COVID-19 restrictions, the Health Ministry authorized 23 provinces to allow those with mild cases of COVID-19 to be treated at home as a shortage of beds at hospitals and treatment centers looms.
Only in Kandal Province has home treatment for mild cases not been granted.
But as the threat of the Delta variant prompts stronger restrictions nationwide, notably in provinces bordering Thailand, Cambodia's vaccine drive continues in earnest with 7,131,184 people having received their first dose of a COVID-19 vaccine and 4,670,954 having received both as of July 30.
Also on July 30, the US donation of 455,000 doses of Johnson & Johnson COVID-19 vaccines arrived in Phnom Penh through the COVAX scheme, the next shipment is expected on Aug. 2, while another 1 million doses of Sinovac that Cambodia purchased from China is scheduled to arrive on July 31 and 415,000 doses of AstraZaneca donated by the United Kingdom are expected to arrive sometime next week.
China leads the way in the volume of vaccines donated to Cambodia, but Japan, the US and the UK have recently stepped up to make their own smaller contributions.
It is unclear who will receive the new donations of vaccines from Japan, the US and the UK, but Cambodia's vaccine drive for adults is far from finished and Prime Minister Hun Sen announced this week that the vaccination of children aged 12 to 17 would commence on Aug. 1 using Sinovac.
Related Articles
February 11, 2022 11:20 AM