Health of Detained Activist Deteriorating Behind Bars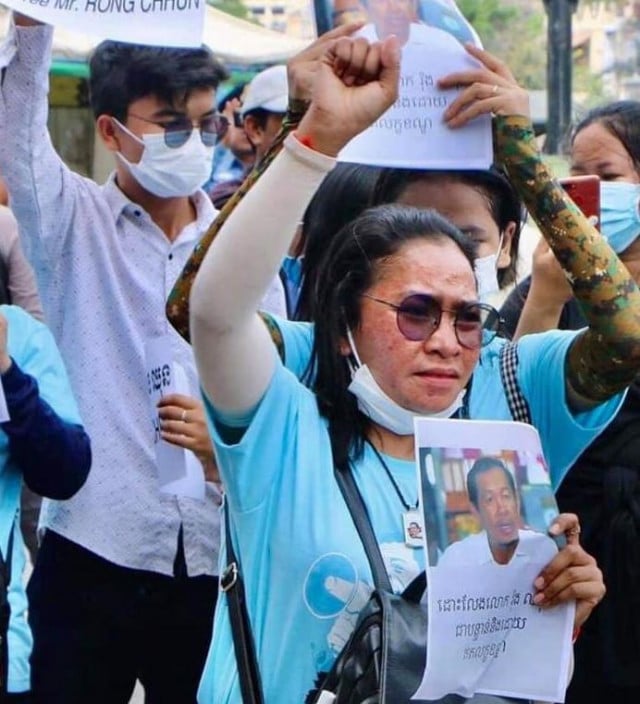 Phoung Vantha
September 29, 2020 8:23 AM
Cambodia's notoriously overcrowded prison system is taking its toll on the health of Khmer Thavrak's Eng Malai, while the UN releases a report on intimidation and reprisals experienced by human rights defenders.
PHNOM PENH--Eng Malai, a member of the youth activist group Khmer Thavrak, is now facing health problems after being jailed in Prey Sa Prison, her younger sister reported. Malai, also known as So Meta, was arrested on Sept. 7 for taking part in a peaceful protest.
Sing Vanndy, the younger sister of Malai said that on Sept. 25, she visited Malai in prison, where she saw her sister's health has deteriorated.
"Her skin is reddened, all over her body, she was very stressed because she thinks too much [about the her family]," Vanddy said. "The place she is staying makes sleep very difficult, there is not enough food, she does not get enough rest as there are a lot of people in the same cell, I am very worried about my sister's health."
Vanndy noted that prison had exacerbated an existing skin condition due to the poor hygienic conditions of her cell. As such, she has requested help from NGOs to support her sister with medicine, but is still waiting for a response.
Conditions in Cambodia's notoriously overcrowded prisons have been slammed by rights groups over the years, with Amnesty International recently releasing a report that highlighted the dangers posed to prisoners by the COVID-19 pandemic.
An estimated 40,000 prisoners are held throughout the country, but Cambodia's total capacity for inmates is just 26,593. As such, overcrowding has been known to affect the health of prisoners, but the government has been slow to address the crisis that is brewing behind bars.
However, conditions outside of prison are also growing harsher for Malai's family. Her sister, Vanndy, explained that at present the seven-person household is reliant on the income of another sister who is working in a garment factory. With the minimum wage set at $190 for this year, Malai's family is hard-pressed to repay debts, along with the interest, let alone cover their cost of living.
Previously, three of the family members were providing for the home, but with one sister behind bars and another losing her job—as some 390,000 Cambodians are predicted to due to the pandemic—the family has fallen on hard times.
Against the backdrop of rising poverty and unemployment, Vanndy called upon the government to drop the charges against her sister and the other protesters who have been arrested in recent months, adding that they are all innocent.
Malai has been charged with incitement under Article 494 and 496 of the Criminal Code and is currently serving her pre-trial detention period in Phnom Penh's Prey Sa Prison.
On Sept. 7, Malai was arrested after leaving the Office of the United Nations High Commissioner for Human Rights. Earlier that day she had attended a peaceful demonstration at Freedom Park to call for the release of Rong Chhun and other imprisoned activists, according to human rights group LICADHO.
Her arrest came as part of a broader crackdown on critics of the government, with some 19 activists, rappers, monks and human rights advocates being arrested between July 31 and Sept. 10, 2020.
Meanwhile the UN Secretary-General is expected to present the annual report to the Human Rights Council on intimidation and reprisals made against those who have cooperated with the UN. The Secretary-General's office is expected to report annually on this topic, but Cambodia will feature in tomorrow's report.
In August 2019, the Special Rapporteur on the situation of human rights in Cambodia Rhona Smith noted that she had "received many reports of local police coming uninvited to events, training sessions or meetings, taking photographs, enquiring about organizers and the agenda or demanding information on participants," and about civil society representatives and their families being closely monitored.
According to the UN High Commissioner for Human Rights (OHCHR) police officers interrupted a human rights training course being held in Kampong Thom Province, also in August 2019. The OHCHR reported that police demanded a list of participants and the training session's agenda while attempting to take photographs of those present.
The OHCHR also reported having to intervene after a meeting between civil society organizations and the UN country team was disrupted by police who demanded to see a permit for the organization to hold the meeting. Following OHCHR's intervention, the meeting was held as planned, but the following day the police again demanded to know the details of the meeting, including who had participated.
Related Articles