Health Officials Warn of Flood Disease Risks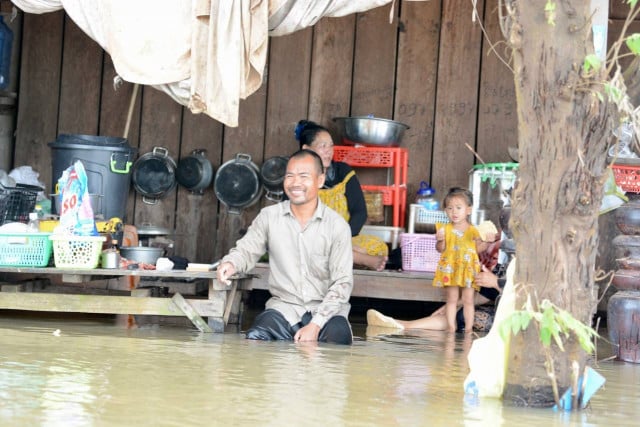 PHNOM PENH – The Ministry of Health has advised people to be on high alert and take preventive measures against disease during the flood season.
Some provinces have already been affected by floods. The ministry said on Oct. 9 that people should be extra vigilant, especially by monitoring the flood situation and being prepared to evacuate to safety when an emergency is declared.
People should sleep in mosquito nets to prevent dengue, malaria, and other illnesses. They need to be hygienic by taking frequent showers and baths to prevent eczema, the ministry said.
It also advised people not to take refuge in old buildings because they can collapse and to be careful of exposure to electrical appliances. Pregnant women should have health checks at the nearest health center.
Parents must pay attention to the safety of children and ask them not to play in deep water to avoid drowning.
Siem Reap administration reported flooding from Sept. 17 to Oct. 8 affected 25,213 families in 325 villages in the districts of Srey Snom, Kralanh, Chi Kreng, Angkor Chum, Varin, Sot Nikum, Prasat Bakong, Puok and Angkor Thom.
At the same time, 32,465 hectares of rice fields were affected and 2,783 hectares of rice fields were damaged. Another 7,351 hectares of cassava were affected and 3,120 hectares of cassava were damaged.
Floods submerged 6,802 houses and 177,470 meters of roads. Another 81 schools, six health centers, 21 commune administrative buildings, 21 administrative police posts and 18 pagodas have been affected by floods.
In Kampong Thom province, a total of 27,345 hectares of rice were affected, damaging 9,500 hectares while 15,223 families were affected.
Meanwhile, the National Committee for Disaster Management said on Oct. 10 that the water level is steadily declining at the Mekong, Tonle Sap and Tonle Bassac hydrological stations. The water level in Tonle Sap lake-Krakor and Kampong Luong stations was 7.86m, up 0.05m on a day earlier.
Related Articles