Heng Samrin denounces growing populism, nationalism and protectionism
Thmey Thmey
September 24, 2019 8:40 AM
"Multilateralism and the rules-based international order are under assault," National Assembly president tells Eurasian parliamentary meeting in Kazakhstan

NUR-SULTAN - National Assembly President Heng Samrin denounced Tuesday the growing trend towards populist politics, economic nationalism and protectionism.
Heng Samrin made his remarks during a meeting of speakers of Eurasian parliaments in the Kazakh capital.
"Multilateralism and the rules-based international order are under assault due to rising populist politics, economic nationalism, protectionism and the return of great power politics," he said.
'Significant threats to the global economy'
"Escalating trade wars and increasing geopolitical tensions between major powers pose significant threats to the global economy, security and people's well-being.
"In these hostile circumstances, constant and open dialogue plays an indispensable and integral role for building trust and promoting closer partnerships among countries in our region and the world," Heng Samrin said.
"We need to encourage and promote our roles more actively and dynamically — particularly in the field of parliamentary diplomacy — to demonstrate global governance and international cooperation to ensure sustainable peace and shared prosperity."
Eurasian Economic Union
Heng Samrin told the meeting that Cambodia supported closer ties between the Eurasian Economic Union (EAEU) and the EU while "establishing strong contacts with ASEAN, and harmoniously joining the EAEU and China's Belt and Road initiative."
Set up in 2014, the EAEU comprises five former Soviet republics — Armenia, Belarus, Kazakhstan, Kyrgyzstan and Russia - with a population of more than 180 million.
The union provides for the free movement of goods services, capital and labour between members, and has a combined gross domestic product of almost $2 trillion.
At a meeting in Bangkok earlier this month, economic ministers from ASEAN and Russia endorsed a cooperation program between ASEAN and the Moscow-based Eurasian Economic Commission (EEC), which administers the EAEU.
Ministers expressed confidence that activities under the program would "forge closer collaboration in areas of mutual interest, thus promoting economic cooperation between ASEAN and the EEC," a statement said.
Vietnam is the only ASEAN country to have a free-trade accord with the EAEU, although Cambodia and Singapore have memoranda of cooperation with the group.
Korea-Russian initiative
The meeting of parliamentary speakers in Nur-Sultan was the fourth under a Korea-Russian initiative which began with an inaugural meeting in Moscow in 2016.
The second gathering was held in Seoul in 2017 and the third in the Turkish city of Antalya in 2018.
Organizers said 66 countries and 13 organizations attended Tuesday's meeting in the Kazakh capital.
Related Articles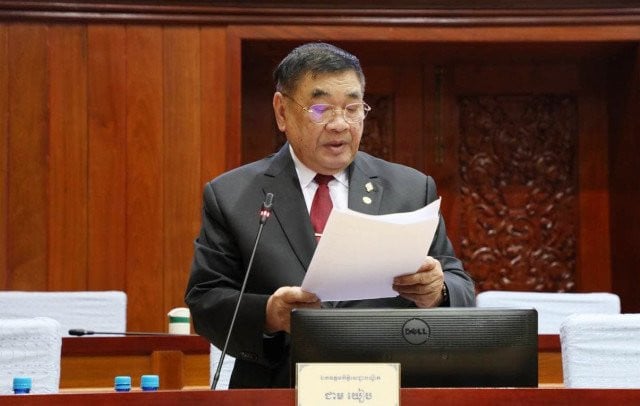 February 28, 2022 7:56 PM