Heng Samrin heads for parliamentary meeting in Kazakhstan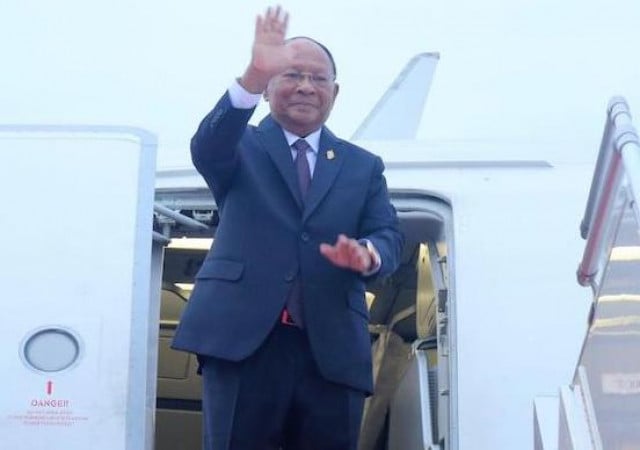 Meeting of speakers of Eurasian legislative bodies expected to develop vision and practical ideas for 'win-win model' for region

PHNOM PENH --National Assembly President Heng Samrin left for Kazahkstan Sunday for a meeting of parliamentary speakers from Europe and Asia.
The fourth meeting of speakers of Eurasian parliaments is scheduled to be held in Nur-Sultan on Monday and Tuesday with a focus on dialogue, trust and partnership.
Kazakhstan is charing the meeting with South Korea and Russia serving as co-chairs.
Organizers said the meeting aims to strengthen dialogue between heads of legislative bodies, international organizations and inter-parliamentary groups — and to "further deepen and expand cooperation" across Eurasia.
"The role of parliaments in identifying key areas of political and economic development of states will serve as a solid basis for finding common points of interaction and mutually acceptable solutions at the regional and continental levels," a statement said.
Vision and practical ideas
In addition, the forum will be an opportunity to "form a vision and practical ideas for moving towards a viable 'overall win' model for Eurasia," it said.
Kazakhstan is seeking to position Eurasia as a platform for a "new partnership model" addressing "emerging contradictions between countries and jointly countering common challenges," the statement said.
The annual Meeting of Speakers of Eurasian Countries Parliaments (MSEAP) is a Korea-Russian initiative. The first three meetings were held in Moscow in 2016, Seoul in 2017 and the Turkish city of Antalya in 2018.
'Win-win model'
In an article published by the MSEAP website Thursday, Kazakhstan parliamentary speaker Nurlan Nigmatulin highlighted the need "for collective efforts to exchange views for a 'win-win model' in Eurasia."
Speaker Nigmatulin "stressed how critical harmonization of initiatives, liberalization of trade relations, and joint development efforts of infrastructure, along with economic interaction issues such as investment, are when achieving the aforementioned goal.
"Given Eurasia's significance in terms of its geographical scope, population size, and GDP, it is of paramount importance to require closer interaction and position Eurasia as a 'platform' to resolve differences and seek sustainable development," Nigmatulin said.
Related Articles