Heng Samrin heads to Australia for regional parliamentary meeting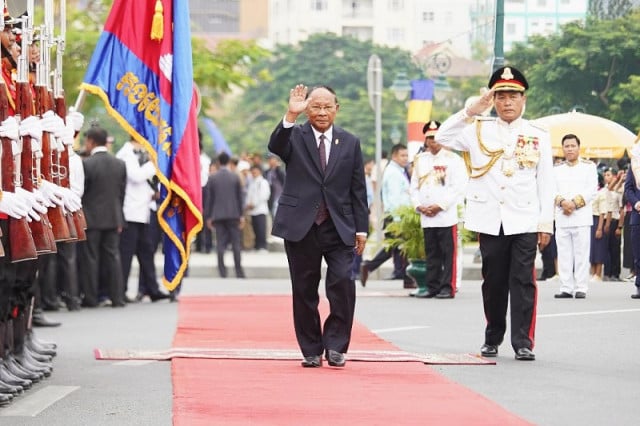 Thmey Thmey
January 8, 2020 10:49 AM
National Assembly president expected to hold bilateral talks with other heads of parliament including speaker of Australian House of Representatives
PHNOM PENH - National Assembly President Heng Samrin will lead a high-level delegation to Australia on Saturday for a regional parliamentary meeting in Canberra.
In a statement Wednesday, the National Assembly said Heng Samrin will address the opening session of the 28th meeting of the Asia-Pacific Parliamentary Forum (APPF).
The four-day meeting is scheduled to open on Monday.
At a meeting of the forum's Executive Committee, Cambodia will also share its experience in hosting the 27th APPF gathering, chaired by Heng Samrin in Siem Reap last year.
"During his stay in the Australian capital, Samdech Heng Samrin is expected to hold bilateral talks with the Speaker of the Australian House of Representatives and parliamentary speakers from other countries to strengthen cooperation and friendship," the statement said
Politics, economics and women
"Cambodian delegates are also scheduled to take part in committee meetings on political and economic affairs as well as a meeting of women parliamentarians and a meeting on a final declaration."
The statement said the forum "aims to bring together Asia-Pacific parliaments to address common issues while promoting peace and sustainable development, both regionally and globally."
As of Wednesday, Australian organisers said 29 countries had confirmed they were taking part in next week's meeting — 20 members and 9 observers.
The APPF has 27 members — Australia, Cambodia, Canada, Costa Rica, Chile, China, Colombia, Ecuador, Fiji, Indonesia, Japan, the Republic of Korea, Laos, Malaysia, the Marshall Islands, Mexico, the Federated States of Micronesia, Mongolia, New Zealand, Papua New Guinea, Peru, the Philippines, Russia, Singapore, Thailand the United States and Vietnam.
The forum held its inaugural meeting in Tokyo in 1993 under the chairmanship of former Japanese Prime Minister Yasuhiro Nakasone.
Cambodia joined the forum in 1995.
Related Articles