High-School Students Run an Anti-Single-Use Plastic Campaign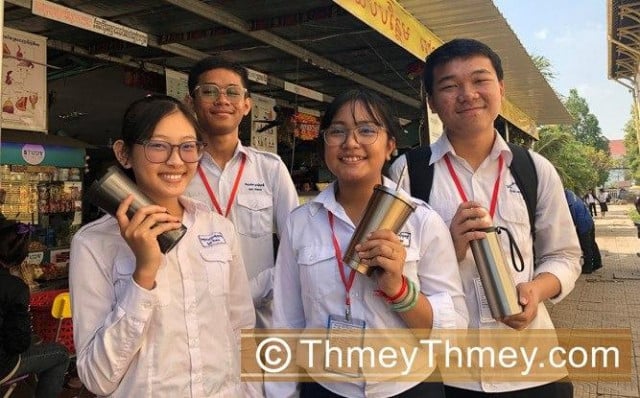 Sao Sokeng
February 2, 2020 9:45 AM
PHNOM PENH--Cambodian students at Preah Sisowath High School in Phnom Penh are running a campaign to reduce the utilization of single-use plastic products.

Through information and by their own behavior, they are attempting to engage students, teachers as well as sellers into limiting, if not eliminating, the habit of using those plastic items.
Launched last November, their 5-year campaign is meeting with challenges."[A]round 60 percent of the students…are involved," said Pol Rothanakvisal, a grade-11 student who volunteers as group leader. "[O]nly around 40 percent of the sellers have joined us." Most sellers are of older generations and not really interested in this issue, he said.
Rothanakvisa, who received an award in the Clean School Competition last November 2019 for coming up with a strategy to keep schools clean, said that his team plans to work closely with other youth groups, such as the scouts, and try to enroll more youth volunteers into the project.
Grade-11 student Pol Rothanakvisal of Preah Sisowath High School in Phnom Penh, believes in education to stop anti-single-use plastic. Photo: ThmeyThmey.com


In his opinion, creating the habit of not using disposable plastic bags or containers must be taught rather than imposed. "We use the approach that students who use plastic in the classroom [must] pick up garbage in the classroom rather than penalizing them with money [fines]," Rothanakvisal said.
Imposing fines would accomplish nothing if students are from well-off families: They would just pay and continue to use single-use plastic items, he said.
The solution is to help them and people in general understand why eliminating such plastic items is important for the environment and the country, he said.
Already, some students are changing their habits, and bringing their own refill-bottles and multi-layer lunch boxes to school, Rothanakvisal said.
But in addition to having to enroll others in their campaign, students on his team face logistics and time challenges.
For example, students either attend school in the morning or the afternoon at the school, Rothanakvisal said. At this point, his student team does not have a student to lead the campaign in afternoon classes, a situation they are trying to remedy, he said.
Moreover, some group members will graduate this year and don't have much time to be involved as they have to prepare for the national examinations, Rothanakvisal said, adding that his last year at the school will be in 2021.
So his group members intend to enroll at least 20 more students in grades 9 and 10 to continue the work and ensure that their school remains environmentally friendly, he said.
"I expect that the next leaders will be able to make changes to the school's environment that will not have plastic," he added.
Related Articles