Highest Single-Day Increase in COVID-19 Cases as 105 People Test Positive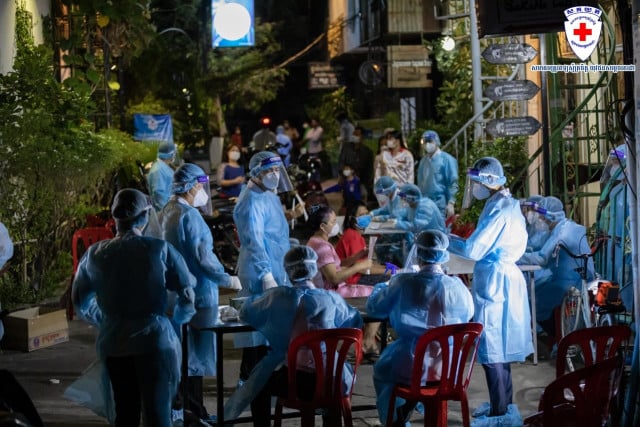 Phoung Vantha
March 16, 2021 5:35 AM
Latest community outbreak has now infected 915 people, although 88 recoveries were reported today as cases surge in Kandal Province and Phnom Penh.
PHNOM PENH--The Ministry of Health on March 16 reported that 105 new COVID-19 cases have been discovered in relation to the Feb. 20 community outbreak, a record single-day jump that brings the total number of cases related to the latest outbreak to 915.
Most new cases were located in Kandal Province, where 64 people have tested positive—including 33 Chinese nationals, 11 Vietnamese people, 13 Cambodians and seven Thai citizens. All 64 have been taken to Chey Chumneas Referral Hospital in Takhmao City.
Meanwhile, cases in Phnom Penh continue to surge with another 29 cases found in the capital. Among them were 16 Cambodians, 12 Chinese nationals and one Malaysian national. Seven of these patients have been taken to the Great Duke Hotel that was recently converted into a COVID-19 treatment facility earlier this month.
Two of the patients found in Phnom Penh are now at the Chak Angre Health Center, while health authorities have not yet found a hospital for the remaining 19 people.
According to the Ministry of Health, another eight cases were reported in Sihanoukville, including six Chinese nationals and two Cambodians.
Koh Kong reported three new cases—two Cambodians and one Chinese national and in Prey Veng Province one more Cambodian has also tested positive for COVID-19.
All are being treated in hospitals in the city and provinces where they live.
However, a further 88 patients related to the Feb. 20 outbreak have reportedly recovered.
This brings the total number of cases since records began to 1,430, with 818 people having recovered and just one death officially attributed to COVID-19.
Related Articles