Hopes and Worries as High School Exam Kicks Off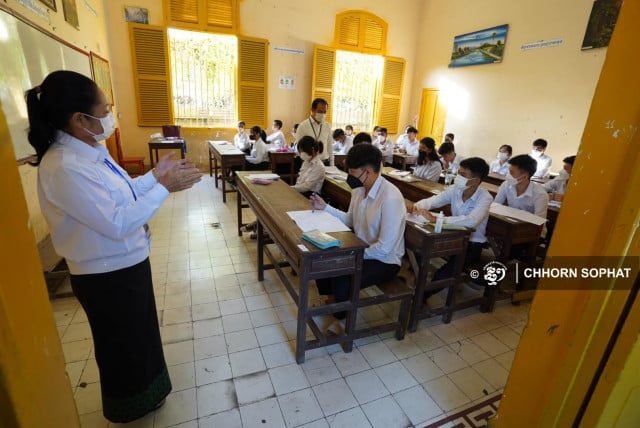 PHNOM PENH – Parents of candidates registered for the 2022 baccalaureate exam expressed their hopes and worries while their children started the written examinations that mark the end of high school on Dec. 5 in the morning.
Kim Sun, a business owner in Phnom Penh, who brought his daughter to the Preah Sisowath High School's exam center on Monday, said he could not rest well yesterday night as he was excited to have a child taking the high school exam.
"She is the first child I have who takes the exam. I believe she can do well," he said while estimating her daughter has a 70 percent chance of success.
Waiting for her in front of the high school, Sun said he will be happy as long as she passes the exam, regardless of what grade she can obtain.
"I saw she tried to study hard, so I believe she can do it," he added. "I'll let her study any topic she is interested in at the university."
The national exam, which is commonly known as Bac II, started on Dec. 5 in the morning and will last until Dec. 6 in the evening. The 128,134 students who have registered for the exam are distributed among 221 exam centers across the country, equivalent to 5,174 rooms. A total of 68,771 of the registered students, or 53 percent, are women, according to the Ministry of Education, Youth and Sports.
The national exam is supervised by 27,753 monitors of the examination committee who are split up into the different exam centers.
Speaking in front of Preah Sisowath High School, another parent, who asked to remain anonymous, expressed being nervous for her son, who is taking the exam inside.
"I'm worried about my son since he is my first child who can take the national exam," she said. "My oldest child dropped out of school in ninth grade, so I am happy that my second child can take the exam."
The family comes from Koh Dach, a river island that lies in the middle of the Mekong River, north of Phnom Penh's downtown. While it is a one-hour drive to the school, the mother enrolled her son in Preah Sisowath High School, which has a good reputation, so he can get a better education.
Arriving at the school at 5 a.m., she will wait outside for her son to finish the exam.
Eight years of reform to tackle cheating
Speaking at the Preah Sisowath High School on Dec. 5, Minister of Education Hang Chuon Naron said Bac II was initially set to take place in early November. But, due to the 40th and 41st ASEAN summits last month, it has been postponed to early December.


Minister of Education Hang Chuon Naron is walking at Preah Sisowath High School in Phnom Penh. Photo: Chhorn Sophat

He stressed that the exam has been progressively reformed since 2014 to tackle cheating and corruption of supervisors. While the standard of the exam subjects has been maintained, measures have been taken to prevent students from copying from another or materials leaking.
"Those who have been studying and keeping up with the lesson will pass," Naron said.
But when it comes to the exam process, "no phones are allowed during the preparation of the exam subjects," he added, pointing out that preparators could be taken accountable by law if leaks were to happen.
Asked what irregularities have occurred, Naron said that alternative exams or piracy of documents used to happen before 2014. Since then, students have adhered to exam rules, he said.
"This is an evolution that exceeds our expectations," he said. "Students are prompted to take general education seriously."
The Ministry of Education has cooperated with six ministries or institutions (the ministries of Interior and Health, the National Gendarmerie, the Anti-Corruption Unit, the Federation of Youth Unions of Cambodia, and Electricity of Cambodia), to set up the examination process.
Last week, the ministry announced that around $5 million has been prepared for the two-day national exams, and expenses will cover committees responsible for the exam, substitute teachers, and exam invigilators and facilitators.
The results will be released on Dec. 27 in Phnom Penh and Kandal provinces, while the rest of the provinces will have to wait until Dec 28.
Related Articles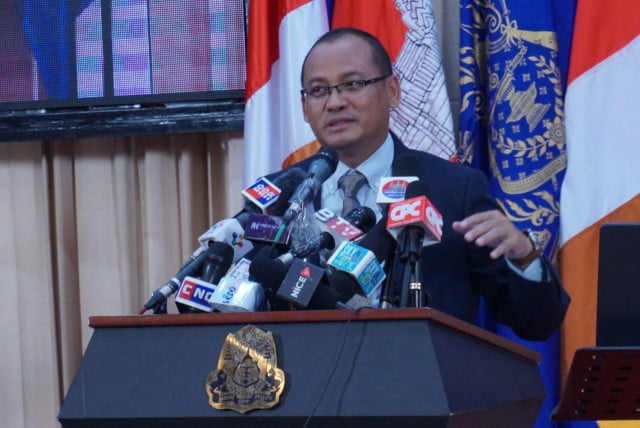 December 12, 2019 3:00 PM