Hour Soben: A Passion for Art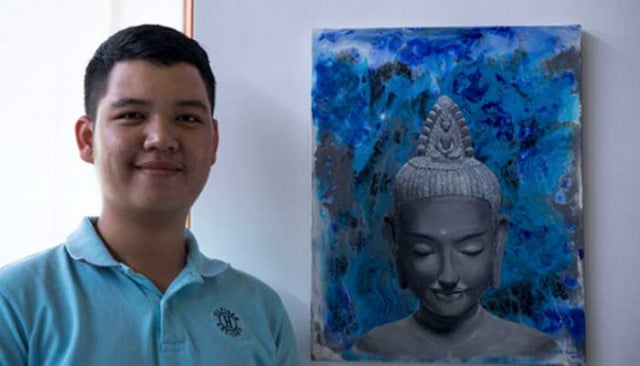 Jazmyn Himel
January 6, 2020 2:37 AM
Phnom Penh -- Growing up in Siem Reap City, Hour Soben has always been fascinated by the artistry of Angkor.

Had there been art classes in primary or high school, he would have loved to study art and learn how the Khmer of 1,000 years ago conceived those wall scenes and sculptures.
And yet, as his work exhibited at the K-Bach Gallery in Phnom Penh shows, Soben did learn and now pays homage to Khmer art in a very 21st century way.
"Most of my artworks were inspired by love, joy and a unique feeling that I try to put in them," he said in interview on Jan. 3. "They do have a consistent theme: to share love and joy with everyone…I've been also inspired by butterflies, Khmer statues and combining these with other elements of Cambodian culture."
By late 2018, Soben had won the K-Bach Artist Competition and come in second place in The Young Artist Competition at the Soo Art Center in Phnom Penh.
Which has led to this exhibition. "For my first solo exhibition, I focused on showing the various works I had created this year since winning the K-Bach Arts Competition," he said. "I wanted to show how I have developed over the last year and how all the projects and collaborations with national/international artists have made me a stronger artist."
Although art is what Soben, who was born in September 1998, has always wanted to do, this has not been easy.
During his last year of high school, Soben heard of an art school in Siem Reap City called "Colors of Cambodia," an NGO with Cambodian art teachers and a gallery. Soben went there to learn as often as he could.
Then, he said, "I got a scholarship from the Royal University of Fine Arts for Art Subject [in Phnom Penh]…But unfortunately, I had to follow my family's wishes and study nursing at the University of Health Sciences."
Still, he kept painting in his spare time. "There are a lot of techniques to create a piece of art," Soben said. "But I normally go with a crazy fluid background, which reflects the meaning of the stone subject in front."
Hour Soben's artwork entitled "Portrait of Jayarajadevi." Photo K-Bach Art Gallery
This can be seen in his work "Portrait of Jayarajadevi" in which he painted a background to better highlight this 12th century Angkorian sculpture.
This long-ago Queen Jayarajadevi was, as mentioned on the K-Bach Art Gallery Facebook page, "praised for donating all her property to the poor."
"The technique," Soben said, "is normally…freehand sketch, and the rest of the colors [and] black and white acrylic paint."
The exhibition runs through January.
The K-Bach Art Gallery is located in Building F2, Factory, 1159 National Road 2, Phnom Penh.
Related Articles