How Did Pre-Angkorian People Bury Their Dead?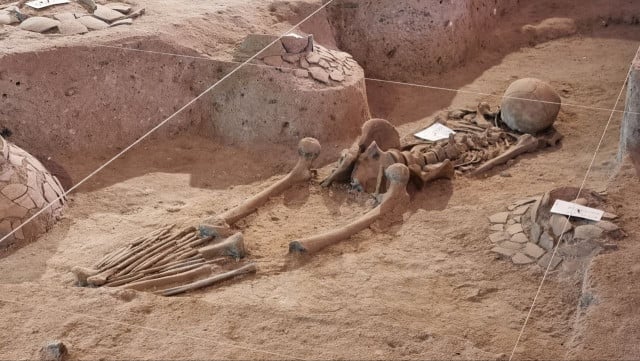 SIEM REAP – The history of Siem Reap province and its surroundings goes back to prehistoric times, long before the construction of the famous temple of Angkor Wat. Digging not too deep underground can offer a glimpse of the very old days.
While most parts of the Preah Norodom Sihanouk-Angkor Museum, in Siem Reap city, are dedicated to ancient statues of gods and divine figures, an entire section focusing on prehistoric times is displayed at ground level.
Cambodia is home to many prehistoric sites. At least two of them are located in the Angkor Archeological Park, not too far from one another: Koh Ta Meas and Prei Khmeng.
The first one is a burial site laying at the bed of the Western Baray water reservoir while the second one is a temple constructed next to one corner of the reservoir itself.
During the dry season, when the water is diverted out of the reservoir for agricultural purposes, pieces of pottery become apparent on a small hill that only comes out at that time of the year. This exposure attracted archaeological studies in 2004 and 2005, leading to the discovery of 27 burial sites at Koh Ta Meas, of which 23 contained highly-preserved skeletons which are thought to be the ancestors of the Khmer people.
A few hundred meters west, Prei Khmeng temple also holds prehistoric evidence. Excavations put to light 11 funerals.
Alongside both burial sites, experts also found tools, jewelry, and animal bones such as chickens, pigs and fish.
In this reconstruction resembling the site's originality, the differences in earth layers demonstrate the differences in age. One layer is approximately 3,800 years old while the other one is around 3,000 years old. Some of the skeletons being displayed here are not real, but the pottery is.
Relatively large in size, but quite thin in terms of the clay layer, these pieces of pottery were made in the open air, and cooked at medium temperature without any proper kiln. Perhaps, their purpose was only meant for burial, not for everyday practical uses, the guide explained.
Three of these skulls, displayed behind protected glass, are from women. Studies showed that it was common to pull out a front tooth at that time. The practice was found in other areas across Southeast Asia.
This installation shows a replica of a prehistoric burial site. Different kinds of pottery containing food were displayed around the deceased, probably as ancient people may believe that they would still be hungry after passing away. Before the deceased can be laid inside, the dug-up hole was covered with a specific kind of mat at the bottom to cushion the body.
At Prei Khmeng, burial sites are between one to two meters in depth. On the contrary, at Koh Ta Meas, the burial is quite shallow. Even a blow from a shovel can reach it. This is because the annual movement of water has eaten the many layers of soil that covered the site.
Excavation is a very slow process that requires precise coordination and care. When Brahmanism was taken much more seriously, burial sites were covered with newly-built temples. Prei Khmeng temple, which was built during the 7th or 8th centuries over former graves, is an example of this.
Over time, when religious practices evolved, fewer potteries were spotted near burial sites and cremations became more widespread.
Interviewed for ThmeyThmey News, this story is translated for Cambodianess by Ky Chamna.
Related Articles