How to Make Num Banh Chok Ka Ri/ Chicken Curry with Rice Noodles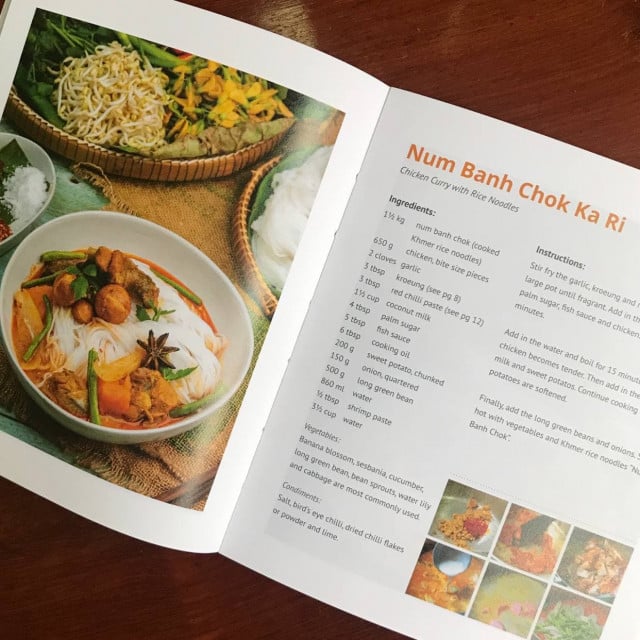 A cookbook "The Taste of ANGKOR" has been recently released by the Ministry of Foreign Affairs and International Cooperation in order to boost the economy and help diplomats bring Khmer culture to the world.

Setting out 38 dishes and recipes, including desserts, side dishes and meals, the cookbook was unveiled at the inauguration of "the Implementation of Economic Diplomatic Strategy 2021-2023."

Cambodian diplomats, from now on, will have to add Khmer foods to their programs and their missions abroad, in addition to existing programs such as promoting agricultural products, tourism, investment policy and commercial activities, allowing them to promote Khmer culture on international forums.

In contributing to the promotion of Khmer Cuisine, Cambodianess​​ has the honour to introduce "Num Banh Chok Ka Ri/ Chicken Curry with Rice Noodles.

Ingredients: 1and 1/2kg of num banh chok (cooked Khmer rice noodles); 650g of chicken, bite size pieces; 2cloves of garlic; 3tbsp of kroeung; 3tbsp of red chilli paste; 1 and 1/2 cup coconut milk; 4tbsp of palm sugar; 5tbsp of fish sauce; 6tbsp of cooking oil; 200g of sweet potato, chunked; 150g of onion, quartered; 500g of long green bean; 860ml of water; 2tbsp of shrimp paste; 3½cup of water

Vegetables: Banana blossom, sesbania, cucumber, long green bean, bean sprouts, water lily and cabbage are most commonly used.

Condiments: Salt, bird's eye chilli, dried chilLli flakes or powder and lime.

Instructions: Stir fry the garlic, kroeung and red chilli pastein a large pot until fragrant. Add in the shrimp paste, salt, palm sugar, fish sauce and chicken. Stir fry for 10 minutes.

Add in the water and boil for 15 minutes or until the chicken becomes tender. Then add in the coconut milk and sweet potatos. Continue cooking until the potatoes are softened.

Finally, add the long green beans and onions. Serve hot with vegetables and Khmer rice noodles "Num Banh Chok".
Related Articles