How to Make Sweet & Sour Pork Ribs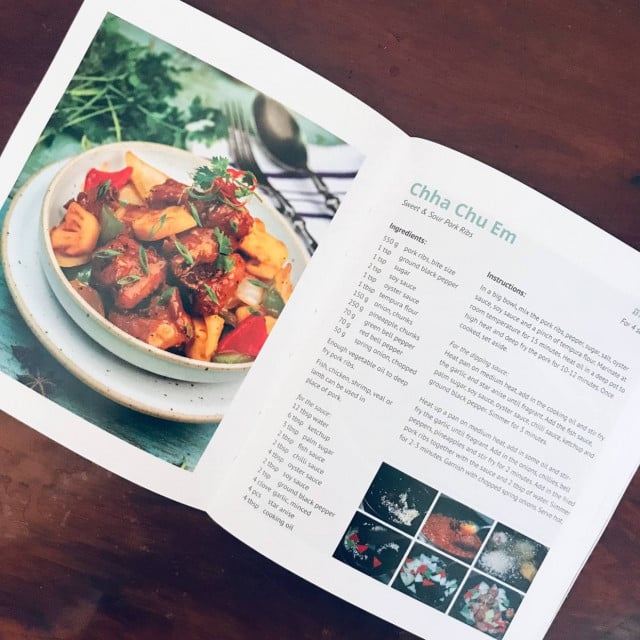 Cambodianess
February 27, 2021 9:12 AM
A cookbook a tittled "The Taste of ANGKOR" has been unveiled by the Ministry of Foreign Affairs and International Cooperation to boost the economy and help diplomats bring Khmer culture to the world.

The book sets out 38 dishes and recipes, including desserts, side dishes and meals.

From now on, Cambodian diplomats will have to add Khmer foods to their programs and their missions abroad, in addition to existing programs such as promoting agricultural products, tourism, investment policy and commercial activities.

In contributing to the promotion of Khmer Cuisine, Cambodianess has the honour to introduce Sweet & Sour Pork Ribs or commonly known in Khmer as "Chha Chu Em".

Ingredients: 550g of pork ribs, bite size; 1tsp of ground black pepper; 1tsp of sugar; 2tsp of soy sauce; 1tsp of oyster sauce; 1tbsp of tempura flour; 150g of onion, chunks; 250g of pineapple, chunks; 70g of green bell pepper; 70g of red bell pepper and 50g spring onion, chopped

Enough vegetable oil to deep fry pork ribs. Fish, chicken, shrimp, veal or lamb can be used in place of pork.

For the sauce: 12tbsp of water, 6 tbsp of ketchup, 3 tbsp of palm sugar, 2 tbsp of fish sauce, 2 tbsp of chilli sauce, 4 tbsp of oyster sauce, 2 tbsp of soy sauce, 2 tsp of ground black pepper, 4 clove of garlic, minced, 4 pcs star anise, 4 tbsp cooking oil.

Instructions: In a big bowl, mix the pork ribs, pepper, sugar, salt, oyster sauce, soy sauce and a pinch of tempura flour. Marinate at room temperature for 15 minutes. Heat oil in a deep pot to high heat and deep fry the pork for 10-12 minutes. Once cooked, set aside.

For the dipping sauce: Heat pan on medium heat, add in the cooking oil and stir fry the garlic and star anise until fragrant. Add the fish sauce, palm sugar, soy sauce, oyster sauce, chilli sauce, ketchup and ground black pepper. Simmer for 3 minutes.

Heat up a pan on medium heat, add in some oil and stir- fry the garlic until fragrant. Add in the onions, chillies, bell peppers, pineapples and stir fry for 2 minutes. Add in the fried pork ribs together with the sauce and 2 tbsp of water. Simmer for 2-3 minutes. Garnish with chopped spring onions. Serve hot.
Related Articles