How to Make Vermicelli Salad with Chicken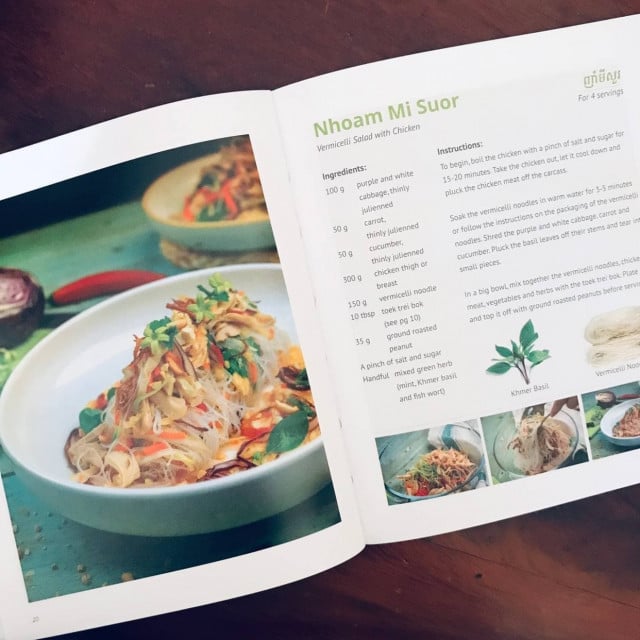 Cambodianess
March 14, 2021 12:46 PM
A cookbook "The Taste of ANGKOR" has been recently released by the Ministry of Foreign Affairs and International Cooperation in order to boost the economy and help diplomats bring Khmer culture to the world.

Setting out 38 dishes and recipes, including desserts, side dishes and meals, the cookbook was unveiled at the inauguration of "the Implementation of Economic Diplomatic Strategy 2021-2023."

Cambodian diplomats, from now on, will have to add Khmer foods to their programs and their missions abroad, in addition to existing programs such as promoting agricultural products, tourism, investment policy and commercial activities, allowing them to promote Khmer culture on international forums.

In contributing to the promotion of Khmer Cuisine, Cambodianess has the honour to introduce Vermicelli Salad with Chicken or locally known as "Nhoam Mi Suor".

Ingredients: 100g of purple and white cabbage, thinly julienned; 50g of carrot, thinly julienned; 50g of cucumber, thinly julienned; 300g of chicken thigh or breast; 150g of vermicelli noodle; 10tbsp of toek trei bok; and 35g of ground roasted peanut. A pinch of salt and sugar. Handful mixed green herb (mint, Khmer basil and fish wort)

Instructions: To begin, boil the chicken with a pinch of salt and sugar for 15-20 minutes. Take the chicken out, let it cool down and pluck the chicken meat off the carcass.

Soak the vermicelli noodles in warm water for 3-5 minutes or follow the instructions on the packaging of the vermicelli noodles. Shred the purple and white cabbage, carrot and cucumber. Pluck the basil leaves off their stems and tear them into small pieces.
Related Articles