Human and Labor Rights Issues Cost Cambodia Duty-Free Access to EU Market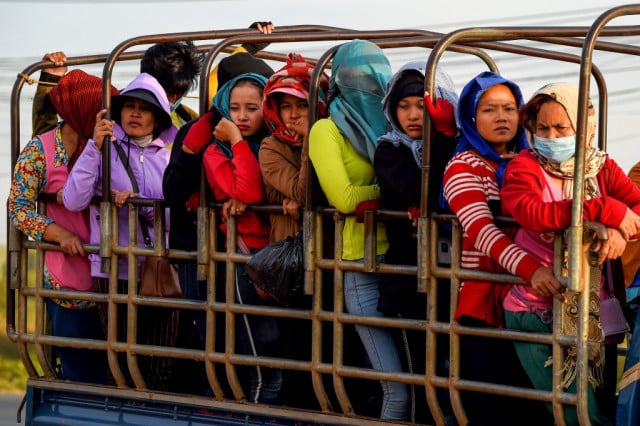 Phoung Vantha and Gerald Flynn
August 12, 2020 10:28 AM
Government inability to solve problems highlighted by the EU regarded as key reason behind 20 percent loss of EBA privileges while the garment sector braces for impact.
PHNOM PENH--Exactly six months since the European Commission announced it would partially suspend Cambodia's access to the Everything But Arms (EBA) preferential trading scheme, the commission has followed through with its threat on Aug. 12, 2020.

Previous warnings issued on Feb. 12, 2020 noted that the suspension would not take place if significant improvement was seen in Cambodia's human and labor rights situation, but as far as the European Union (EU) is concerned, that has not happened.
A statement issued by the European Commission on Aug. 12 confirmed that many of Cambodia's most profitable export goods will no longer reach European markets without paying EU customs duties and added that the EU's decision to partially revoke Cambodia's duty-free and quota-free access is now in effect.
"The preferential treatment enjoyed by Cambodia under 'Everything But Arms' (EBA)—the EU's trade arrangement for Least Developed Countries—is now temporarily lifted due to serious and systematic concerns related to human rights ascertained in the country," the statement read.
"The EU enforces this measure while staying open to engage with Cambodia on the necessary reforms," it added.
The European Union's Commissioner for Trade Phil Hogan on Aug. 12 pointed out that Cambodia has been provided opportunities to develop an export-oriented industry and maintained that the EU will stand by Cambodia during the pandemic.
"Nonetheless, our continued support does not diminish the urgent need for Cambodia to respect human rights and labor rights," said Hogan. "I stand ready to continue our engagement and to restore fully free access to the EU market for products from Cambodia provided we see substantial improvement in that respect."
Cambodia's garment industry, which—at the start of the year—employed some 750,000 Cambodians, mostly women, has benefited immensely from access to EBA since the preferential trading scheme came into force on March 5, 2001.
EBA Stimulated the Growth of an Industry
According to a July 2019 report from the International Labor Organization, Cambodia's garment and textile manufacturing sector grew by 25 percent in 2001. Footwear manufacturing grew 18 percent the same year.
After EBA was introduced garments and textile productions grew consistently in Cambodia, by as much as 24 percent in 2010 and 17 percent in 2018. Cambodia's footwear production suffered a shakier start, contracting by 7 percent in 2005, only to grow by 61 percent in 2010, 40 percent in 2015 and 19 percent in 2018.
In 2011 the World Trade Organization noted the positive impact of benevolent trading schemes in terms of Cambodia's development.
"Despite recent setbacks caused by the world economic and financial crisis, Cambodia's garment exports to North America and Europe, along with its tourism sector, have played an important role in expanding income and employment, and in reducing poverty," the report stated, although it warned that an excessive reliance on garments, textile and footwear manufacturing would increase Cambodia's vulnerability to external shocks.
By 2018, the EU's EBA—coupled with the United States' Generalized System of Preferences (GSP)—had stimulated rapid growth throughout Cambodia, where GDP growth remained above 7 percent on average for more than a decade following the introduction of these trading schemes.
But it was the EU who had emerged the largest trading partner for Cambodia. More than 45 percent of all Cambodian exports in 2018 were sent to European markets—exports worth roughly $6.3 billion for the Cambodian economy.
The same year, in 2018, Cambodia's GDP was just $24.5 billion according to World Bank data, highlighting the value of access to European markets. The EU estimated that 95.7 percent of products exported to the EU in 2018 fell under the purview of EBA.
Out of the $6.3 billion, there were no tariffs on exports worth $6.1 billion and 86 percent of all exports to the EU that year consisted of garments, footwear and travel goods.
Political and Civil Rights Suppressed
However, it was February 2019 when the EU launched a 12-month investigation into the suppression of labor rights and numerous human rights abuses happening throughout Cambodia. The dissolution of the only viable opposition party in 2017 ahead of the 2018 national elections, coupled with the politically motivated tax bills that forced the country's two largest independent media outlets to close factored into the EU's decision.
"The EU will keep on monitoring the situation in the country, with a particular focus on current restrictions in the areas of freedom of expression and civil and political rights, as well as land disputes and labor rights in the context of the ongoing reforms," the European Commission's Aug. 12 statement read.
Similarly, the abuse of trade unionists, environmentalists, youth activists and non-governmental organizations represented "serious and systematic violations of the human rights principles enshrined in the International Covenant on Civil and Political Rights," according to the European Commission. This led the commission to announce on Feb. 12, 2020 that it would withdraw 20 percent of Cambodia's access to EBA, which it predicted would result in tariffs on exports worth roughly $1.1 billion.
But shortly after the EU's announcement, Cambodia's garment industry unraveled under external pressures produced by the Coronavirus Disease 2019 (COVID-19) pandemic as raw materials from China became inaccessible and Western markets—where many of Cambodia's fashion buyers were based—began to hemorrhage demand.
As such the pandemic has seen more than 400 garment factories close or suspend operations, with estimates between 150,000 to 200,000 Cambodians losing their jobs in the process. COVID-19 has seen Cambodia's economy nosedive into freefall, with estimates of negative growth ranging from -1.9 percent to -5.5 percent.
Following the EU's Feb. 12 announcement, Cambodia's government was given six months to meet the standards required for full access to EBA, but remained combative, claiming it would not exchange sovereignty for trade with the EU. Throughout the six-month period, the government has publicly denounced the EU and its decision, but has refused to negotiate.
"There is not any reason for me to trade our country's sovereignty in exchange for a $100 million tax break," said Prime Minister Hun Sen on Feb. 24, 2020. "Hun Sen will not request support or renege on this decision."
On Aug. 12, customs duties came into effect for some 20 percent of Cambodia's exports—including key products such as garments, textiles and footwear—and the government's tone has not changed.
Government spokesperson Phay Siphan claimed that the Cambodian government remains committed to protecting state sovereignty and independence.
"We cannot kneel down to beg, to give up our sovereignty and independence, because for our sovereignty and independence we have worked hard for a long time and we have spent so many lives so far," said Siphan at a press conference on Aug. 12. "So [the government's position] remains the same."
Likewise, Cambodian People's Party spokesman Sok Eysan echoed the sentiment that the government was well-prepared for the loss of EBA.
"The cutting of 20 percent of EBA doesn't seems like a cut because exports of Cambodian products to Europe remain…It is not possible to trade independence or national sovereignty [for] the EBA," he said.
But while the government remains confident that Cambodia's lucrative garment manufacturing industry can survive, the industry itself is facing an existential crisis and the partial loss of EBA only piles on the pressure.
Cambodia's Garment Industry Unravels
Ken Loo, president of the Garment Manufacturers Association in Cambodia (GMAC) said "We regret the decision on the EU to go ahead with the withdrawal, despite our numerous appeals and in spite of the pandemic."
Over the past six months, GMAC have repeatedly petitioned the EU and called upon politicians to delay the EBA suspension due to the economic impact of COVID-19—even going so far as to call for a minimum wage freeze within the industry.
For Loo, the main threat to garment manufacturing and the hundreds of thousands of jobs it creates is not the EU's decision, but rather the COVID-19 pandemic. This, he explained, affects global demand—not just demand in the European markets—but he noted that it would be difficult to distinguish the factory closures and job losses that have resulted from the pandemic to those that he predicts will happen due to the partial loss of EBA.
Meanwhile, Sandra D'Amico—vice president of the Cambodian Federation of Employers and Business Associations (CAMFEBA)—expressed her dismay at the EU's decision.
"It's very sad that they did not reconsider," she said. "It was an unwarranted and unfair process that, in the end, will be hurting the industry and disadvantaging the workers."
D'Amico warned that Cambodian garment factories that are struggling now will see the EU's decision as an additional challenge to navigate—particularly given the substantial loss of orders that factories have suffered due to COVID-19.
"I think the government and the private sector did all that could be done, but it's a political decision at the end of the day and a sad one at that," D'Amico said.
"It's shocking that Western democracies can hurt workers like this," she added.
However, many others remain unconvinced by the government's negotiations with the EU and feel that they have left their own workers out to dry by refusing to live up to the agreed upon standards of human and labor rights.
Could the Government Have Done More?
Director of human rights group LICADHO Naly Pilorge explained that "The granting of EBA preferential trade agreements to Cambodian was based on respecting human and labor rights from the start.
"The EU had no choice but to withdraw this privilege after years of meetings and documented political, labor and human rights repression and abuses," argued Pilorge, adding that if the government wants full access to the EBA scheme then it must reform and improve its human rights record.
While the government has been keen to frame the EU's decision as an attack on Cambodian workers, for those dedicated to defending the rights of workers and pushing for stronger labor laws, it is the government who has let down Cambodia's garment workers.
"Even though we're disappointed by the government's inaction on concerns raised by the European Commission, it's a result of the limited political will related to human and labor rights," said Khun Tharo, program manager at labor rights group CENTRAL.
He added that the loss of EBA highlights the government's lack of genuine attempts to solve the problems in Cambodia that have been repeatedly pointed out by the EU and that it is the workers who will suffer as a result.
"This will create a bigger impact on the lives and livelihoods of workers, who are already facing the crisis of COVID-19 and it will have a long-term impact on the economic recovery of the country—we will lose factories, workers will lose jobs and many will struggle to meet their basic needs as a result of the government's inability to meet European standards coupled with the impact of the pandemic," explained Tharo.
Related Articles