Hun Manet Appointed Head of CPP's Youth Wing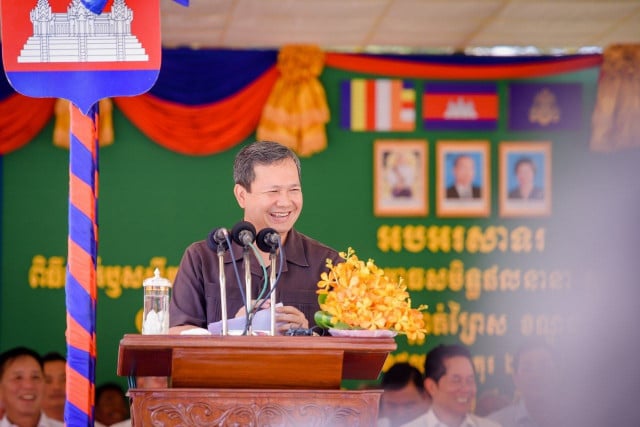 Mao Sopha and Torn Chanritheara 
June 9, 2020 4:31 AM
Newest promotion for Prime Minister Hun Sen's eldest son prompts fresh speculation about Hun Manet succeeding his father for top job.

PHNOM PENH--Hun Manet, an army commander and the eldest son of Prime Minister Hun Sen, was appointed Monday (June 8) as chief of ruling party's youth wing, in a move regarded by many to groom Manet for his father's job. Rumors of Manet succeeding his father have long circulated, but the intensity of such observations peaked when Manet was promoted to commander—the second-most powerful position in the Royal Cambodian Armed Fores (RCAF)—in 2018.
In a letter issued on June 8, Hun Sen, in his capacity as president of the ruling Cambodian People's Party (CPP), promoted Manet to the head of Central Party Youth, replacing Ke Bunkheang who is in his 60s. Manet has been Bunkheang's deputy for years.

CPP spokesperson Sok Eysan told ThmeyThmey on June 8 that the head of party's youth wing is the highest position of the youth structure inside the party. Eysan said in a phone interview that the structure of the CPP's youth movement is no different from party's structure, which comprises of national and sub-national levels.

Another spokesman, Chhim Phal Vorun mentioned that strengthening youth is always a top priority for the ruling party and that the head of party's youth wing should be a younger one.

"We already know that the youth work more dynamically…Even now there is a high percentage of younger Cambodians [in the party] so setting up a policy to reflect the social reality and the evolution of the people is the right thing to do at the right time so the country also move forward," Vorun noted.

Ou Vireak, founder and president of Future Forum, said that appointment of Manet to new position is Prime Minister Hun Sen's consideration to prepare for a power transfer in the future. "I see this development as not coincidental, but a strategic arrangement," he added.

"Moreover, I can see that this appointment confirms that the CPP is possibly pushing for a hereditary power transfer to next generation of leadership," said Vireak in reference to Manet.

In late 2018, Manet was promoted to be member of Standing Committee, a highest decision-making body of the party who has been in power for more than four decades. He's also a member of Central Committee so as Bunkheang who is reinstated to his previous position as deputy head of propaganda and education department.

Within state affairs, Manet, having graduated from US-based military academy West Point, is a three-star general, holding a position of deputy Commander-in-Chief of Royal Cambodian Armed Forces and Commander of Royal Cambodian Army. He is also the head of counter-terrorism force.

While Manet is widely believed to be the successor, Hun Sen had previously claimed that Cambodia is democratic country which power is transferred through election, shrugging off the idea of a hereditary transfer of power.

Hun Sen has even said the he would be in power for at least 10 year more so Manet must wait.


Related Articles