Hun Manet Promoted Deputy Head of the CPP's Mass Movement Section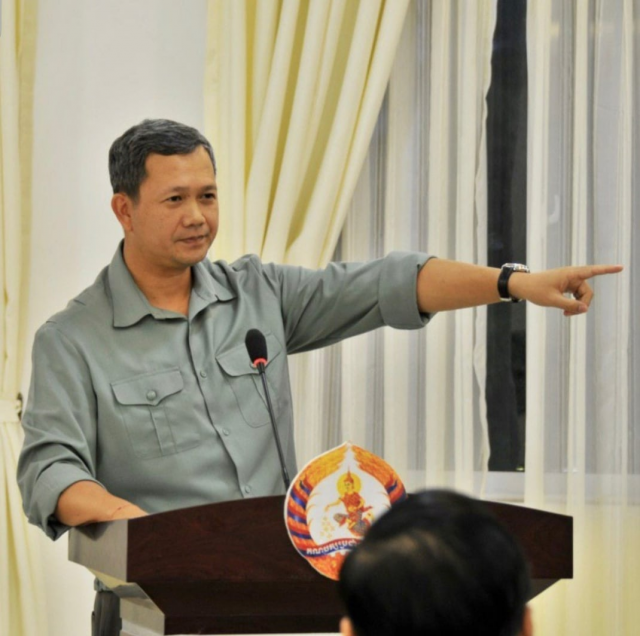 Romdoul Chetra and Torn Chanritheara
December 24, 2020 7:02 AM
As member of the CPP's permanent committee, he also heads the party's youth wing
PHNOM PENH--The ruling Cambodian People's Party (CPP) has promoted Hun Manet—son of the party president Prime Minister Hun Sen—deputy head of the party's Mass Movement section and this, six months after his becoming head of the party's youth wing.
"Promoted Hun Manet from member to deputy head of the Central Committee's Mass Movement Committee," read a document stating the decision signed by CPP's Deputy President Say Chhum on Dec. 23. Deputy Prime Minister Men Sam An heads the Mass Movement section.
Manet was promoted head of the party's Central Youth wing in June 2020. His younger brother, Hun Manit holds the position of deputy head of the CPP's disciplinary inspection committee.
In late 2018, Manet was elected to the powerful CPP's permanent committee along with other senior military officers. The committee has around 30 members including Hun Sen, National Assembly President Heng Samrin, Interior Minister Sar Kheng and Say Chhum. Committee members are selected by the party's Central Committee.
This series of promotions have raised speculations that Hun Sen is paving the way for his eldest son to replace him as prime minister although he has also said that he intends to remain in power for many years to come.
Amid those rumors, Hun Sen has recently announced that Aun Pornmoniroth, deputy prime minister and minister of Economy and Finance, is also one of party's candidates for the position of prime minister. "What message is it," Hun Sen stressed in a televised address on Dec. 15.
Pornmoniroth, who is 55 years old, represented the prime minister during the ASEAN Summit that was held virtually last month while Hun Sen was under COVID-19 quarantine.
Manet graduated from the US Military Academy West Point. He is a 3-star general who holds the position of deputy commander-in-chief of the Royal Cambodian Armed Forces and commander of the Royal Cambodian Army. He also heads the counter-terrorism forces.
Related Articles