Hun Manet Responds to Criticisms over Military Truck Delivery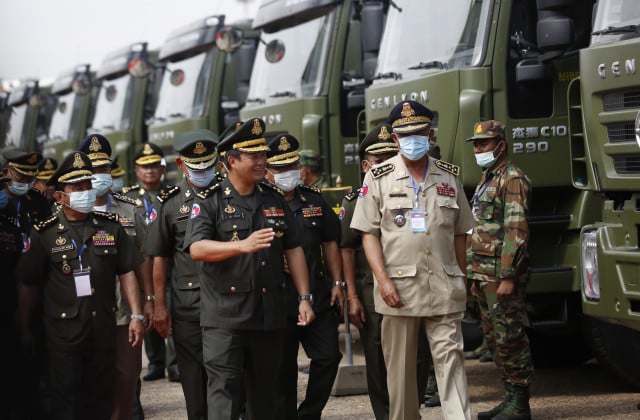 Phoung Vantha
June 19, 2020 4:53 AM
They were purchased before COVID-19 and not paid through government budget, he says

PHNOM PENH—Lieutenant General Hun Manet, commander of the Royal Cambodian Armed Forces (RCAF), responded to criticisms regarding the purchase of 290 military trucks in the midst of the pandemic during a ceremony held on June 18 to mark the handover of the trucks to the RCAF and the National Police.

The Cambodian government had ordered the trucks from China before the Coronavirus Disease 2019 (COVID-19) outbreak, he said.

"In fact, those cars should have arrived at the beginning of 2020, in February or March," Manet said. "But when COVID-19 [erupted] in China, the factory delayed delivery."

He also stressed that the military vehicles had not been paid through government funds. The money came from Prime Minister Hun Sen's funds received from local charities and donors. "There was no use of the state budget," Manet said.

"Don't think that the armed forces, the national police and the gendarmerie do not have the brains to figure out the circumstances, when it is necessary and when it is not to spend money," he said, "We had ordered the military vehicles in mid-2019…We had already made a deposit, and the company had started making the trucks."


Lieutenant General Hun Manet, commander of the Royal Cambodian Armed Forces, presides over the military-vehicle handover ceremony at the Olympic Stadium on June 18. Photo: ThmeyThmey.
Manet added that the trucks will be used to serve Cambodians and the nation.

Earlier this month, the truck purchase announcement had drawn criticism in view of the economic crisis the country is going through due to the pandemic, which has deprived millions of people of their livelihood.

San Chey, executive director of the Affiliated Network for Social Accountability, said that the sum involved should have been allocated to other priority sectors severely affected by the pandemic.

Such a purchase, however, is not uncommon for China and Cambodia as it is usually carried out by the defense ministries of the two countries whose bilateral relations including military ties are very close, he added.

Chhum Socheat, spokesman for the Ministry of National Defense, said that 40 of the 290 vehicles will be handed to the National Police and 250 to the RCAF.

When asked how much the Cambodian government has spent on military equipment purchases lately, he responded he could not confirm.

Over the past years, Cambodia and China have built close relations in the military sector. In October 2019, the Chinese government pledged $84 million in grant to support the kingdom's military capability. Both countries also have held series of joint military drills since 2016. The latest one held last March was "Dragon Gold 2020," which focused on counterterrorism and humanitarian rescue.
Related Articles