Hun Many Declares ASEP11 a Success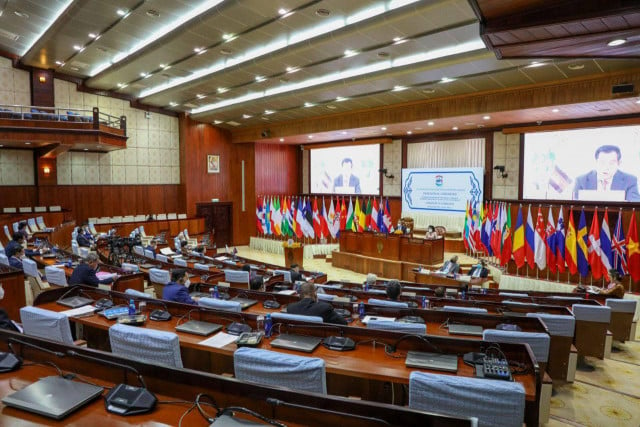 November 17, 2021 6:34 PM
Tasked with hosting one of the side events of the Asia-Europe Meeting which will be hosted in Phnom Penh next week, Prime Minister Hun Sen's youngest son said ASEP11 was a success
PHNOM PENH--The 11th Asia-Europe Parliamentary Partnership Meeting (ASEP11) hosted by the Cambodian Parliament, held virtually on Nov. 16, has been heralded a success by Prime Minister Hun Sen's youngest son Hun Many, who serves as chairman of the draft committee meeting of ASEP11.
Usually held every two years, ASEP11 was postponed until 2021 due to the COVID-19 pandemic, which largely formed the theme of this year's side event to the forthcoming Asia-Europe Meeting (ASEM) summit.
Hun Sen stressed that, as host of the 13th ASEM Summit, Cambodia's priority is to strengthen multilateralism as a means of promoting inclusive growth in the socio-economic recovery. This, he said, would involve sustainability, the environment and resilience after the COVID-19 crisis.
Under the ambitious and ambiguous title "Strengthening Parliamentary Partnership for Peace and Sustainable Development in the Era of COVID-19 and beyond" hosted delegates from 33 nations and blocs and was co-chaired by both Cambodia's National Assembly and Senate.
Attendees arrived in Phnom Penh from Australia, Austria, Bangladesh, Belgium, Brunei, Cambodia, China, Croatia, Cyprus, Finland, Greece, Hungary, Indonesia, Ireland, Italy, Kazakhstan, Republic of Korea, Lao PDR, Malaysia, Norway, Pakistan, the Philippines, Poland, Portugal, Romania, Russian Federation, Singapore, Sweden, Thailand, Viet Nam, but also present were representatives of the European Parliament and the ASEAN Secretariat.
"Cambodia's role from year to year, from one forum to another, is changing and recognized, with Cambodia now playing an equal role in resolving major issues in the regional and international framework," said Hun Many, who heads the Union of Youth Federations of Cambodia as a 38-year-old and is Kampong Speu Province's National Assembly representative for his father's ruling Cambodian People's Party (CPP).
"These are the successes of Cambodia that used to be a country suffering from countless tragedies," said Many.
Also of the CPP, President of the National Assembly's Commission of Inquiry and Anti-Corruption Pen Siman chaired the first discussion on "Proactive Parliaments for Peace, Security, and Shared Prosperity," where the former tax official said human rights, the freedom of each citizen and gender equality were necessary to ensure the long-lasting peace, inclusive and sustainable development.
Siman, whose own allegations of corruption from 2015 remain well-documented, reportedly did not discuss Cambodia's own human rights record.
Another CPP Senator, Yang Sem who serves vice chairman of the Senate's Commission on Legislation and Justice, led the second discussion on "Containing COVID-19 and Promoting Post-Pandemic Socio-Economic Recovery."
Suos Yara of the CPP heads the National Assembly's Commission on Foreign Affairs, International Cooperation, Information, and Media and for ASEP11 chaired the third discussion on "Promoting a Green Recovery and Addressing the Water-Energy-Food Security Nexus."
Then the CPP's Hun Many, chairman of the National Assembly's Committee on Education, Youth, Sports, Cult, Culture, and Tourism, chaired the committee to draft the joint declaration of the ASEP11 meeting.
The 38-paragraph joint declaration was adopted by a plenary session and will be sent to the 13th ASEM summit, which Cambodia will host on Nov. 25-26.
In the joint statement, all countries agreed that the ASEP mechanism has played a role in connecting and empowering the peoples of Asia and Europe in order to achieve a trans-regional community.
"ASEP11 discussed key issues of common concern to the regions, particularly peace and security, human development, the post-COVID-19 socio-economic recovery, including digital transformation, digital economy, the digital divide, inclusive growth and development, and sustainable use of resources, including regional and sub-regional connectivity," read the joint statement.
Related Articles