Hun Sen Awarded the Peace Gold Medal at the Universal Peace Federation's Conference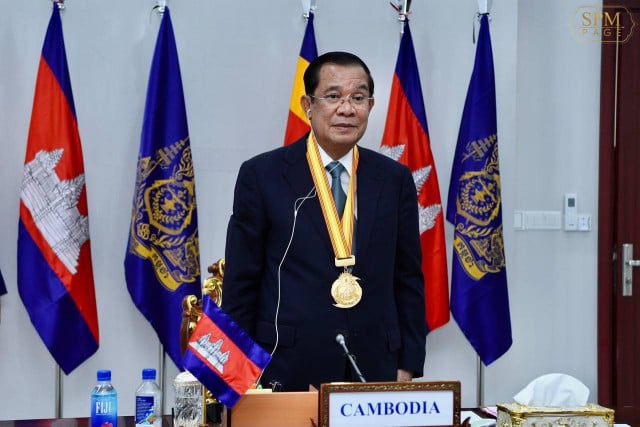 Referring to Afghanistan, he spoke during his speech of the need to let nationals devise peace plans for their own countries
PHNOM PENH--Prime Minister Hun Sen was awarded the World Summit Peace Gold Medal during the 7th World Rally of Hope: Think-Tank 2022.
Organized by the Universal Peace Federation (UPF), an international and interreligious network of individuals and organizations, the event was held on Sept. 12 via video conference on the theme "Steps Toward Peace in Asia: Focus on Reconciliation and Cooperation on the Korean Peninsula."
During his speech, Hun Sen said that, in circumstances such as those reflected in the evolving political situation in Afghanistan, it can be seen that only local stakeholders in a country in conflict can contribute to peace and nation-building.
"National ownership is the key to success and sustains peace," Hun Sen stressed. "In other words, other countries cannot transplant political value and system upon any country, as these fundamentals need to be indigenously developed corresponding to the political, economic, social and cultural contexts of each individual country."
Cambodia is a good example of a country that others may learn from since the involvement of all key parties has resulted in lasting peace, he said.
"The war prolonged until December 1998, when Cambodia was able to achieve the full peace after the implementation of the Win-Win policy to find a political solution among ourselves," Hun Sen said, referring to the last Khmer Rouge who surrendered in December 1998, putting an end to war, and the government win-win policy of integrating former Khmer Rouge members into society.
Peace-building and nation-building in post-conflict period must be "nationally-owned" by countries, Hun Sen stressed, adding that key components of such strategies are amnesties, employment guarantees and reintegration via national reconciliation.
The world summit was held by the Universal Peace Federation, an international and interreligious network that includes representatives from religion, government, civil society and the private sector, and has a general consultative status with the Economic and Social Council of the United Nations.
Speakers at the event included José Manuel Barroso, former president of the European Commission and Nobel Prize laureate.
Teng Yalirozy contributed to the story
Related Articles