PM Hun Sen Backs Eldest Son as Successor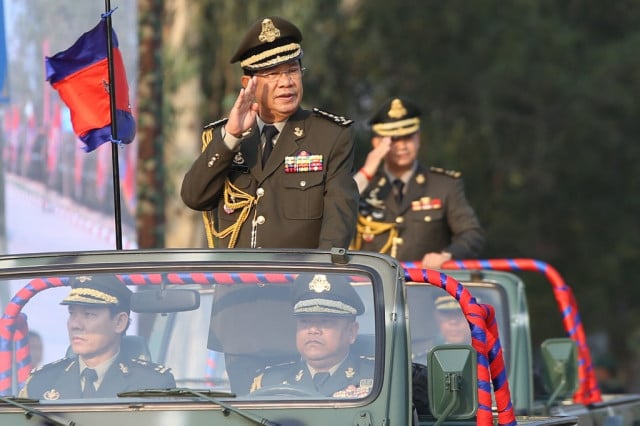 Hun Manet lined up for generational change
PHMOM PENH--Hun Sen has thrown his weight behind his son, Hun Manet, succeeding him as prime minister.
"After Hun Sen, Hun Manet is one of the prime ministerial candidates – not only him – but he has full support from his father," the Prime Minister said.
Hun Manet, 44, would still have to win the position through an election.
Hun Sen was speaking on Thursday at an inauguration ceremony for roads, wastewater treatment plants and other achievements in Preah Sihanouk province.
Hun Manet, his eldest son, is a three-star general in the Royal Cambodian Armed Forces and commander of the Royal Cambodian Army.
Hun Sen cited former Japanese prime minister Shinzo Abe, whose father, Shintaro Abe, was foreign minister and his grandfather, Nobusuke Kishi, was a prime minister.
Shinzo Abe later became the longest-serving prime minister in Japanese history, in power from 2006 to 2007 and from 2012 to 2020.
"Why can't my son do it while another's son could?" Hun Sen asked.
Hun Sen said other prime ministerial candidates in the ruling party include Aun Pornmoniroth, the Minister of Economy and Finance.
Interior Minister Sar Kheng, National Defense Minister Tea Banh, and Chairman of the Council for Agriculture and Rural Development, Yim Chhay Ly, were too old.
"If [Sar] Kheng, [Tea] Banh, Chhay Ly were to be prime minister, then wouldn't it be easier if I stayed as the Prime Minister?" he said.
Political and social analyst Meas Nee said there had been public criticism of the job being passed from father to son but it was not wrong for the Prime Minister to support his son because the position would be decided at an election.
"It is not an appointment, and it is not different from the internal principles of other parties either. What the Prime Minister was speaking about was his right to support his son," Meas Nee said.
He said Hun Sen was cautiously using the word "support".
"It would be wrong from what is written in Cambodian Constitutional Law and the party principles if he said no one but his son would get the position of prime minister," he said.
"For me, it does not matter who takes over from whom," he said.
"What matters is which direction the new leader will lead Cambodia – whether he will lead the country according to what the Constitution says or just lead the country for the benefit of an individual and his family."
Nee suggested focusing on the context of the election within the party, whether it will be fair, and whether the procedure is set out or not.
Related Articles