Hun Sen Blames Bad Governance, Orders Stringent COVID Measures as WHO Warns of Health Disaster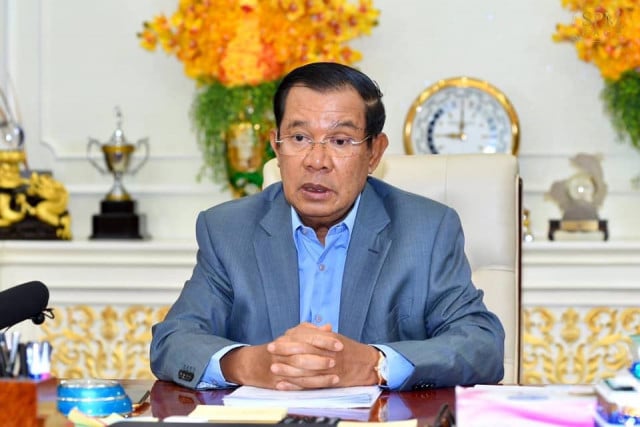 Sao Phal Niseiy
April 10, 2021 9:18 AM
While around 11 million doses of vaccines are expected throughout this year, 500,000 doses are to arrive later this month.

PHNOM PENH--Prime Minister Hun Sen on April 10 recognized that the worsening situation prompted by the recent COVID-19 community outbreak, which has claimed 25 lives and infected more than 3,000 people over less than two months, was instigated by a governance issue.
In a special address to the nation that lasted more than two hours, Hun Sen touched upon a wide range of issues from the recent partial lockdown of Phnom Penh in response to the deteriorating pandemic situation to the vaccination drive in the country.
Regarding the Feb. 20 community cluster, the prime minister emphasized that it is critical that administrative measures combined with legal mechanisms be strictly deployed in response to the current situation in order to bring it under full control. He also acknowledged that some malpractices in the governance system had taken place.
"My habit is I don't blame anyone for any crisis, but I recognize that our recent community outbreak has been due to our governance issue," Hun Sen said, pointing out to the collusion between the security guard and people under quarantine as well as the opening of entertainment places without the local authorities being aware of it.
"That is why we need to strengthen our governances everywhere," he stressed, adding that stringent administrative actions and law enforcement are needed.
Hun Sen then instructed Minister of Justice Keut Rith to work closely with the courts to ensure that those violating quarantine rules and causing COVID-19 to spread will be prosecuted in accordance with the laws in effect.
In addition, the prime minister said, adhering to preventive health measures such as social distancing, the mandatory facemask, strengthening quarantine rules and continuing to enhance awareness through campaigns in every community are critical to encourage people to join together to break the transmission chain.


Hun Sen also complained about the slowness of the testing process, which he said has allowed the situation to worsen rather than be put under control quickly. The testing process so far has not prioritized those at greater risks, potentially allowing those people to continue spreading the coronavirus, he said.
"Now, [the problem] is people living in higher-risk places get tested after those at lower risk," Hun Sen said. "When it takes too long for them to know the test results, those infected patients can go everywhere and it is difficult to bring them to treatment." He added that the strategy needs to be revamped.
Overcapacity in health care for COVID-19 patients
In the same address, Hun Sen mentioned that the pandemic situation has been getting worse as over 1,000 cases were detected in two days and that the hospitals and medical care centers have been facing overcapacity situations.
"Another point I want to mention is that our medical care [system] can no longer withstand [the situation]," Hun Sen said. "In two days, we found over 1,000 cases which exceeded the current capacity of our existing hospitals and medical care centers. That is why we decided to implement home care services."
Treatment at home, according to him, only is to be done for patients with mild symptoms while those in critical condition and having small residences will still require hospitalization, he said.
Hun Sen added that he has requested Koh Pich hall to be transformed into a medical care center and that some other provinces and cities in the country such as Kampong Cham Province have already set up facilities for the medical care in case of emergency.
Vaccine drive going well as planned, Hun Sen says
Regarding the immunization program, Hun Sen said that nearly one million people have already been inoculated with the COVID-19 vaccines, with nearly 220,000 among them being military personnel.
"The rate of vaccination in our country is not lower than that of the countries in the region," he said. "If things go as planned, based on the figures, we will be receiving 20 million doses of the vaccines while over 11 million doses of vaccines will arrive in our country in different phases throughout this year," he said.
Cambodia has already received over three million doses of three vaccines namely the Sinopharm and Sinova developed in China and Covishield coming from India.
On April 17, Hun Sen said, another 500,000 doses of vaccine—he did not mention which vaccine—will be arriving in the country and this will be followed by one and a half million doses in May, three million in June, two million in July and one million doses in August.
The prime minister went on to say that some people have criticized him for enforcing mandatory vaccination for military and public officials while citizens still do it on a voluntary basis. He noted that a large number of Cambodians, including those working in the private sector, have been increasingly seeking vaccination although there still are limited supplies.
"They blamed me for violating the volunteering principle for vaccination," Hun Sen said. "As leader of a country, I have an obligation and responsibility to protect the lives of my people. Whatever they want to say, it is up to them." He added that he is anticipating that the world will soon implement vaccination passports from which only vaccinated people will benefits.
The number of coronavirus cases keeps on going up
The health authorities reported on April 10 that 477 new cases of COVID-19 infections linked to the Feb. 20 community outbreak had been identified and that 96 patients had recovered.
According to Or Vandine, spokesperson for the Ministry of Health, 454 of these cases involved people in Phnom Penh, six in Preah Sihanouk Province, four in Kandal Province, four in Takeo Province, one in Kampong Thom Province, one in Siem Reap Province, three in Prey Veng Province, and four in Svay Rieng Province.
These latest infections have brought COVID-19 cases to 4,081 since the start of the pandemic in the country. Among them, 1,970 patients remain hospitalized and 26 have passed away.
The World Health Organization warns people to be vigilant during Khmer New Year
As the number of cases due to the Feb. 20 community transmission continues to go up in Cambodia, the World Health Organization (WHO) has launched an appeal to the public to remain strictly vigilant to prevent the outbreak from being out of control as Khmer New Year is days away.
"We stand on the brink of a national tragedy because of COVID-19. Despite our best efforts, we are struggling to control the virus. New cases occur every day and we are racing against the virus," said Li Ailan, WHO representative to Cambodia, according to a WHO press release issued on April 10. "Unless we can stop the outbreak, Cambodia's health system is at high risk of being overwhelmed, which would have disastrous consequences."
Li also reminded those who have been vaccinated to continue to be conscientious in preventing the spread of the coronavirus to others during this difficult time. "The vaccines protect you from serious illness and hospitalization, but you may still become infected and spread the virus," she said. "Even if you have been vaccinated, you should also stay home: You will be safest there."
Related Articles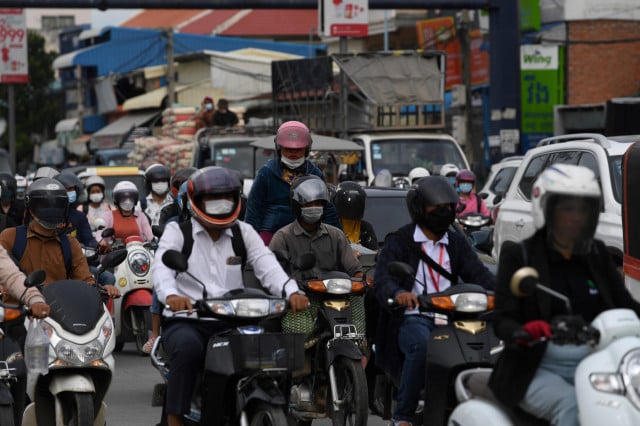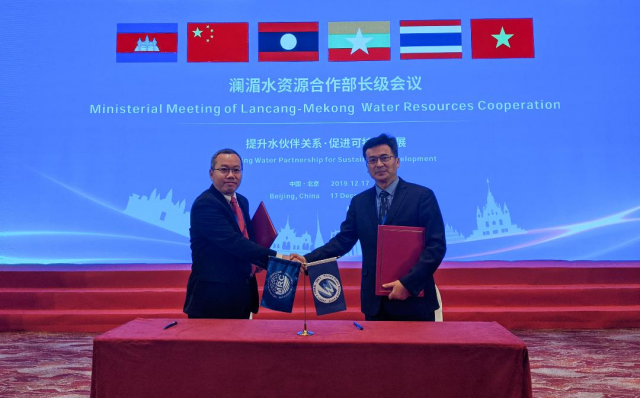 December 18, 2019 8:49 AM