Hun Sen Calls on World Leaders to Make the COVID-19 Vaccine Available to All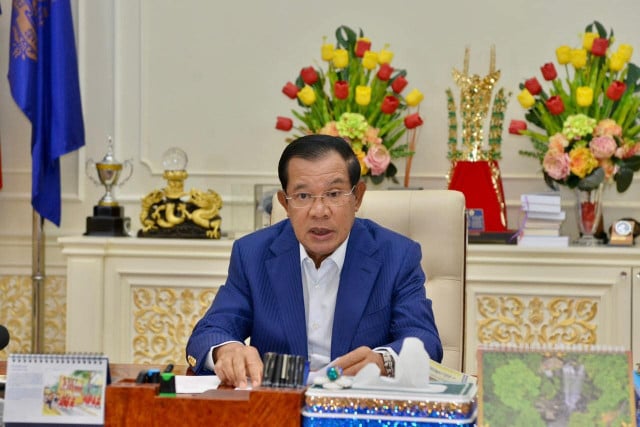 During an international conference online, the prime minister asks all countries to cooperate
PHNOM PENH-- Prime Minister Hun Sen Sunday (Aug. 9) appealed on countries to join force to combat the spread of the novel coronavirus (COVID-19), and to make the vaccine, which will eventually be developed, available to all nations.
"Cambodia calls for cohesive and unified approach at regional and global levels," Hun Sen said. "While the world is waiting for the breakthrough in vaccine development, Cambodia calls for the adoption of the vaccine as global public good, which people anywhere and everywhere can access."
Hun Sen was speaking during the virtual conference "World Rally of Hope: Rebuilding and Renewing our Nations in the Post COVID-19 World: Interdependence, Mutual Prosperity and Universal Values." Organized by the Universal Peace Federation—an NGO in general consultative status with the Economic and Social Council of the United Nations—the event included as speakers Macky Sall, president of Senegal; Brigi Rafini, prime minister of Niger; and Dick Cheney, former vice-president of the United States.
During his speech, Hun Sen spoke of Cambodia's effective efforts in stemming the spread of COVID-19 and the importance of deepening global cooperation to deal with the far-reaching impacts of the pandemic.
Asking countries to make the COVID-19 vaccine available to all, he appealed to governments to end "scapegoating practice" and "racism" which, he said, only bring about a disunity to the whole world, which hinders global effort to fight against a common enemy. This enemy now being the coronavirus.
Hun Sen went on to urge countries to join hands to develop an effective strategy for recovery in post-pandemic times for trade exchanges as well as other sectors that have been hardest hit by the pandemic.
Last but not least, the Cambodian prime minister emphasized the need to support globalization as well as to preserve global peace and stability, which will be fundamental for global development.
"We must promote mutual love, mutual respect and the value of humanity as well as live together peacefully and harmoniously and also respect diversity of faiths, religions and cultures between and within societies," Hun Sen concluded.

As of Sunday (Aug. 9), Cambodia has officially recorded 248 COVID-19 cases countrywide. Among them, 217 patients have already recovered while 31 others remain hospitalized.
According to the Johns Hopkins University's Center for Systems Science and Engineering, over 19.6 million cases of COVID-19 had been confirmed throughout the world as of Sunday (Aug. 9) with the death toll standing at 727,258.
Related Articles