Hun Sen Confirms No Cause for State of Emergency Yet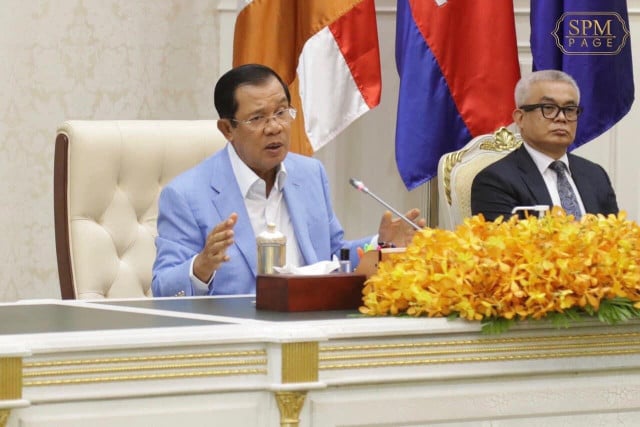 Phoung Vantha
April 7, 2020 7:37 AM
The prime minister today warned that the disease presents a serious threat, but has not yet escalated to the point that warrants a state of emergency.

PHNOM PENH--Prime Minister Hun Sen on Tuesday said that the threat of Coronavirus Disease 2019 (COVID-19) in Cambodia still high, despite the apparently low number of cases.

Speaking at a press conference on government measures to contain COVID-19 at the Peace Palace this morning, he warned people that although the numbers of cases remains low, the risk should still be considered high for Cambodia.

"We must not be overly happy and grow careless, this would bring great risk to our country. We must have further measures," he said.

Hun Sen also announced the postponement of Khmer New Year celebrations – which were to be held from April 13 to 16 as a means of preventing the spread of COVID-19.

He went on to say that the context of the disease in Cambodia is not serious enough yet to warrant a state of emergency, as cases of the virus remain low. He suggested that the chance of declaring a state of emergency was less than 0.1 percent.

The law for the state of emergency was submitted to the National Assembly for review, it will be submitted to the Senate and to the King to approval.

In addition to this, Hun Sen ordered the authorities to deny entry to a flight carrying 150 passengers from Malaysia to Cambodia on April 7.

He claimed this was done to prevent COVID-19 from being imported into the country, despite the fact that most of the passengers were Cambodians.

The Ministry of Health on Tuesday reported one new case of COVID-19, bringing the total number of confirmed cases to 115.


Related Articles