Hun Sen: COVID-19 Treatment Free of Charge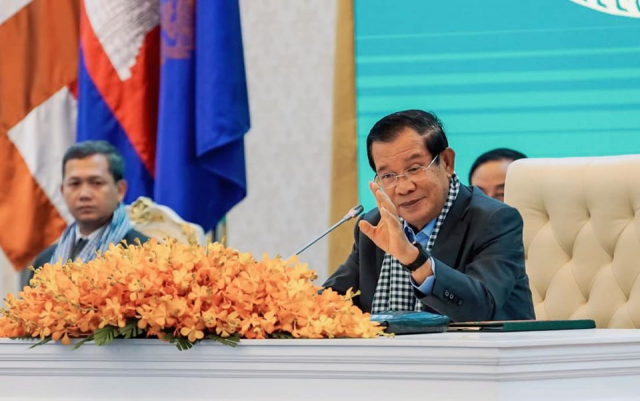 Torn Chanritheara
March 25, 2020 10:07 AM
Cambodia's prime minister today confirmed that treatment for the coronavirus will be free for all, including foreigners.
PHNOM PENH--Treatment for Coronavirus Disease 2019 (COVID-19) will be offered free for all patients, including foreigners, Prime Minister Hun Sen announced on Wednesday. This is an apparent direct response to his Vietnamese counterpart, who recently confirmed that all foreign patients will have to pay for their treatment.
In a speech to hundreds of volunteer medical staff about to embark on their mission to fight against what he called "the invisible enemy," Hun Sen said that Cambodia may be small in terms of size but does have a big heart.
"I want to declare that we [Cambodia] are poor but we have big mind. Whoever becomes infected with the virus on our land, we will cover the expenses," he said, adding that this policy is different from Vietnamese.
He was referring to statement by his Vietnamese counterpart Nguyen Xuan Phuc announcing that all foreigners have to pay for their own medical bill.
Vietnam Net, a Vietnam local media, reportedly quoted Phuc as saying that Vietnam will charge foreigners who receive COVID-19 treatment in the country, except for fees related to quarantine and testing.
Hun Sen went on to explain that this is Cambodia's responsibility as the host country.
"They can't go back to their homeland and need to have money transferred [from their countries] so if they don't have money, leave them die? We must take care of them… Khmers have virtue," he said.
So far Cambodia has confirmed 93 COVID-19 cases with a range of foreigner nationals involved, including citizens from the United States, the United Kingdom, France and Belgium. A Chinese National who was the first confirmed case was treated and discharged.


Related Articles