Hun Sen Dismisses Rumors that his Son Hun Manet Will Soon Succeed Him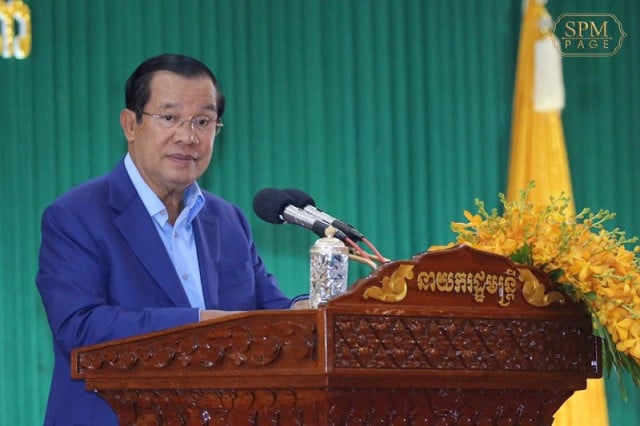 Torn Chanritheara
January 15, 2020 8:54 AM
Phnom Penh – Prime Minister Hun Sen Tuesday shrugged off speculations that preparations were underway for him to transfer power to his eldest son Hun Manet and reiterated that he plans to still rule the country for the next 10 years.

Speaking at his fourth annual meeting with the press, Hun Sen said that Manet, who is commander of the Royal Cambodian Army, is still young and that there are many older officials who can assume the premiership once he steps down.
Besides, he said, "[w]hat I want to stress is that we are democratic country, not one in which power has been handed over by father to son. Must go through elections."
Nearly six thousand members of press and media Tuesday night attended the event at the Koh Pich Exhibition and Convention Center, which coincided with the 35th anniversary of Hun Sen becoming prime minister. He acceded to this position on Jan. 14, 1985.
Responding to speculations to the effect that he is preparing to transfer power to his eldest son, Hun Sen said that he plans to remain in power for many years and that Manet may have to wait until 2028 or 2029 or even 2030 to succeed him.
And then Manet—a 3-star general who graduated from the prestigious West Point Academy in United States—may not succeed him, Hun Sen added.
"After his father leaves, it may not be his turn to be prime minister yet as there are still my other colleagues who have carried Manet when he was a baby," he said. "It is sure that we are thinking of ways to deal with [such] internal issue."
The prime minister still pointed out Manet has the ability to serve in the government as a minister or secretary of state.
Hun Sen claims that he was the youngest person to ever be named prime minister—he was born in April 1952—and has now been the one remaining the longest in that position.
Related Articles
September 17, 2023 9:00 PM