Hun Sen Exhorts People to Be Vigilant at Christmas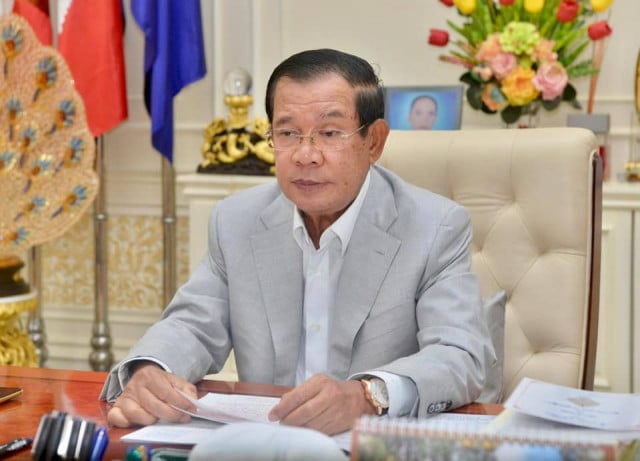 As no new community-spread case of COVID-19 has been identified in 10 days
PHNOM PENH--Prime Minister Hun Sen on Friday (Dec. 25) urged people to remain on alert at Christmas—which is widely celebrated in the country even though most Cambodians are of Buddhist faith—as the country has reported no new COVID-19 case inside the country for 10 days.
In a Facebook post, Hun Sen noted that, even though this is Christians' most important holiday, the country must remain vigilant to prevent the spread of the coronavirus: Christians are not celebrating in public places but are allowed to do so at home with the recommended health measures.
"I would like to wish all Christians as well as Cambodians all over the country good health and being spared from COVID-19 by wearing a mask, cleaning one's hands with an alcohol-based soap and gel, and keeping a safe distance [from each other]," the prime minister said.
The Ministry of Health on Dec. 25 said that three COVID-19 patients had recovered and that no new case had been identified. December 25 marks the 10th day without new case related to the community spread episode that began Nov. 28.
According to the Ministry of Health, the last coronavirus case due to community spread was identified 10 days ago, and the last case involving a person returning from abroad was identified five days ago.
As of Dec. 25, Cambodia had 363 confirmed cases of COVID-19 and no death due to the disease. Among the patients, 354 have recovered while nine remained hospitalized.
In his Facebook post, Hun Sen asked people in quarantine to strictly abide by the Health Ministry's directives.
According to Keo Vannthan, spokesman for the General Department of Immigration at the Interior Ministry, from Dec. 20 through 24, a total of 568 Cambodian men and 381 Cambodian women returned from Thailand via the international border checkpoints.
They have been taken to quarantine facilities where they will remain for 14 days before being allowed to return home, he said.
Related Articles