Hun Sen Issues Warning to Corrupt Government Officials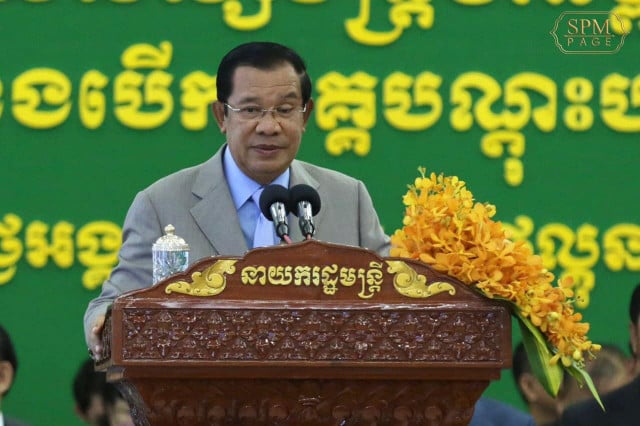 Phoung Vantha
February 25, 2020 1:19 PM
The prime minister's threats come after he announced a planned cabinet reshuffle
PHNOM PENH--Prime Minister Hun Sen on Tuesday called on his government officials to serve Cambodia with morality and virtue. He warned he will fire governmental officials who act irresponsibly in their work.
"Some officials must mind their behavior and remember they serve the people. Officials have to work to address the problems that they are appointed to solve, that is their responsibility," he said.
"The role of the officials are laid out in sub-decrees and in royal decrees, so they should work on their duties and for those officials who just file reports while waiting for recommendations and then blame lower-level officials when things go wrong, those kind of officials will not be allowed to go on holding their positions, I will not hesitate to fire them," he added.
During a graduation ceremony at the Royal School of Administration, he said officers should not just stay in the office, they have to work in the community. He urged government officers not to wait for recommended actions when problems arise, they should solve the problem first.
He also warned his officials to be cautious about losing commitment to their roles due to their families, noting that some officials had been vesting power derived from their positions to give their families an advantage in business, among other forms of corruption.
"I will not name anyone, but I am tired of seeing some of our officials with their wife and children doing bad things, getting involved in land issues, wherever [I] went, [I] heard that's the land of some official's wife and this is a part of the problem, so we are trying to educate them also," he said.
Cambodia has long been blighted by corruption, cronyism and land rights disputes – with Transparency International recently ranking the Kingdom 162nd out of 180 countries analyzed in their Corruption Perceptions Index 2019. Since February 2019, Cambodia has been on the Financial Action Taskforce's money-laundering blacklist – chiefly on account of deficiencies in legal framework and enforcement of anti-money-laundering laws.
This comes just after the European Union moved to strip Cambodia of certain trade privileges guaranteed under the Everything But Arms preferential trading scheme over systematic human and labor rights abuses.
In December 2019, two high-profile Cambodians were hit with Magnitsky sanctions by the US Treasury Department for their alleged involvement in corruption. Both General Kun Kim and Oknha Try Pheap have been effectively frozen out of the American banking system by these sanctions, along with having any assets they held in the US seized. Similarly, American companies are now forbidden from trading with them or any companies they own.
Family members of Pheap have also received sanctions from the US for their involvement in the Oknha's illegal logging empire, while Kun Kim was accused of using his connections in the Royal Cambodian Armed Forces to extract profits in Koh Kong.
Related Articles