Hun Sen Orders Stringent Health Measures to Deal with the Ongoing Community Outbreak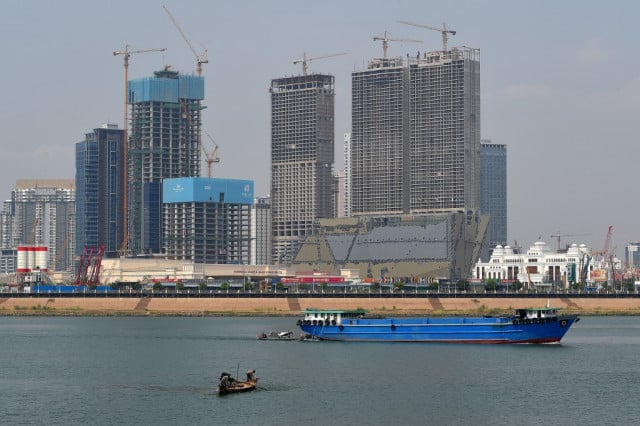 Sao Phal Niseiy
December 6, 2020 5:42 AM
The prime minister discloses that declaring a state of emergency might be considered if the COVID-19 community outbreak gets out of control
PHMOM PENH--Prime Minister Hun Sen on Dec. 6 instructed the local authorities to stringently enforce health measures in response to the current community outbreak, adding that he is prepared to declare a state of emergency.
Speaking about the community transmission that was triggered on Nov. 28, Hun Sen pointed out the negligence as well as the violation of health-authority directives, which, he said, partly contributed to the recent outbreak.
"I want to remind the provincial and city governments to monitor markets and shopping places, and instruct [all staff] to properly apply the safety measures," he said. "If they don't apply them, please use the authoritative powers [of government authorities] to temporarily close the places," Hun Sen said in voice message published on his Facebook page.
The prime minister also mentioned that he was prepared to place the country under a state of emergency to cope with the outbreak should the situation gets worse.
"Honestly speaking, I want to let you know that I have already prepared a royal decree for his Majesty the King [to sign] in order to declare a state of emergency, drafted a sub-decree and also letters for the presidents of the Senate and the National Assembly," Hun Sen said, adding that the situation won't be pleasant.
"But I don't want to see that because if the lockdown is carried out nationwide or in any parts of the country, our whole economic activity is going to be frozen," he said. "It would especially affect our people's business activities."
Therefore, in order to avoid this, Hun Sen said, "what we should do is our authorities trying harder and especially our people participating. Please understand this situation: This is not for anyone [else's safety], this is for your own self."
Only one new case linked to community outbreak
On Sunday (Dec. 6), the Ministry of Health announced one new COVID-19 case, which is related to the community outbreak.
According to the Health Ministry's press statement, the patient is a 21-year-old Cambodian man who lives in Boeng Tumpun Commune in Phnom Penh's Meanchey District, and works at the Toul Tompoung branch of Carl's Jr. restaurant in the capital.
He shares an apartment with a 22-year-old man who works at Pedro shoe store on Preah Sihanouk Blvd in Phnom Penh and tested positive for the virus on Dec. 3.
The patient is now under treatment at Chak Angre Health Centre in Phnom Penh.
Meanwhile, the Ministry of Health has called on people who went to the Zando Fashion outlet in Boeng Keng Kang I in Phnom Penh on Nov. 27 between 7:30 pm and the shop closing to be tested for COVID-19 as two people who were at the store that day were found to be infected with the coronavirus.

People who were at that store must go into self-quarantine at home for 14 days and strictly follow all health directives to prevent the spread of the coronavirus, the Health Ministry stressed.
Between Nov. 29 and Dec. 5, the health authorities conducted 10,772 tests for people found to have been involved in the Nov. 28 community outbreak—30 of these people were found to have contracted the disease.
In the meantime, the Ministry of Health has announced one COVID-19 recovery involving a 37-year-old Nepali man who arrived in Cambodia on Nov. 11. He was discharged from hospital following his second test, which indicated he was free of the coronavirus.
As of Dec .6, Cambodia has recorded 346 COVID-19 cases nationwide. Among them, 306 patients have recovered while 40 patients remain under treatment.
Related Articles