Hun Sen Orders Vendors Not to Increase Price of Facemasks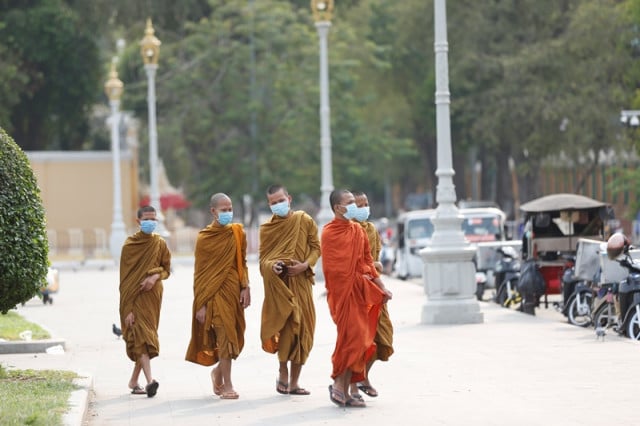 Phoung Vantha
March 25, 2020 6:47 AM
The prime minister threatened vendors caught price gouging with legal action as cost of masks and hand sanitizer soar amid COVID-19 fears.

PHNOM PENH--Prime Minister Hun Sen on Wednesday urged authorities to investigate and take legal action against all clinics that increasing the price of facemasks. This comes after claims that some Cambodians are attempting to profit on the sale of facemasks, hand sanitizer and other protective equipment in light of the Coronavirus Disease 2019 (COVID-19) pandemic.

"I call upon the Ministry of Health to investigate this matter and I ask that people also report how many clinics that are increasing the price of masks," he said, adding that he will grant the authorities power to seize the masks and hand out lifetime bans to business owners responsible for price gouging.

Typically, facemasks have been known to sell for around 500 Khmer Riel (approximately $0.12) or $2.50 for a box, but since the COVID-19 outbreak began, prices have soared to as high as $1 each – with boxes of the masks reportedly selling for up to $30. Cambodia has so far avoided much of the panic-buying and hoarding seen across the world, but Hun Sen warned of a crackdown against those seeking to capitalize on the fear generated by COVID-19.

"Mask sellers have to decrease the price before the government takes serious legal action, if not, this time we won't just take your masks, but your business too - you will not reopen in a lifetime," he said.

This reiterates what the Ministry of Health was warning against on Jan. 27, 2020, but as confirmed cases of COVID-19 have risen to 93, the country has scrambled to cope with the pandemic.


Related Articles