Hun Sen outlines aims of economic reform package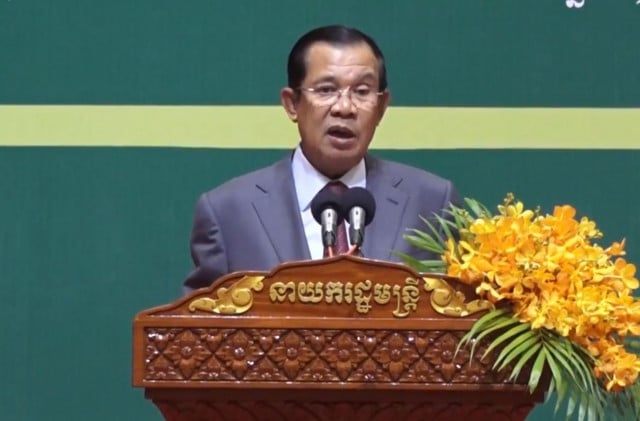 Thmey Thmey
May 14, 2019 9:58 AM
Prime minister highlights increasing competitiveness, improving investment climate and diversifying economy

PHNOM PENH - Prime Minister Hun Sen on Tuesday outlined the aims of a major economic reform package he unveiled at a government-private sector meeting in March.
Speaking at a business forum with visiting Nepalese Prime Minister K.P. Sharma Oli, he also said that Cambodia was "on track" to achieve upper middle-income country status by 2030.
At the meeting on March 29, "I introduced some specific reform measures to increase Cambodia's economic competitiveness, improve and further promote the investment and business environment, and diversify the economy and create more value-added jobs," Hun Sen said.
Private sector seen as engine of growth
The prime minister said the government considers the private sector an 'engine of economic growth' and a 'genuine partner' in developing the country.
He also noted that reforms announced at the government meeting with the private sector in March had the same effect as cabinet decisions.
The reforms included removing Cambodia Import-Export Inspection and Fraud Repression Directorate General (Camcontrol) from border crossings.
They also included eliminating Kampuchea Shipping Agency & Brokers along with certificates of origin for countries where they are not required.
Other measures included reducing port service charges in Sihanoukville and Phnom Penh as well as cutting the number of public holidays by seven days from next year.
In his address on Tuesday, Hun Sen said investment approvals for 959 projects worth about $23 billion between 2014 and 2018 had helped create about one million jobs.
Project approvals soar in first four months of 2019
"In addition, 115 projects worth about $4 billion were approved in the first four months of this year – compared with only 81 worth about $863 million a year earlier," he said.
The prime minister said Cambodia welcomed about 1.88 million foreign visitors during the first quarter of this year, up 9.7 percent from a year earlier.
"Cambodia expects tourist numbers to increase further in the coming years, providing great investment opportunities for investors," he said.
Hun Sen also said that Cambodia's economic growth of 7.5 percent last year was a "a strong foundation for continued robust growth in 2019.
"This puts Cambodia on track to achieve upper middle-income status by 2030," he added.
Related Articles