Hun Sen Says He Looks Forward to Working Closely with Japan's New Prime Minister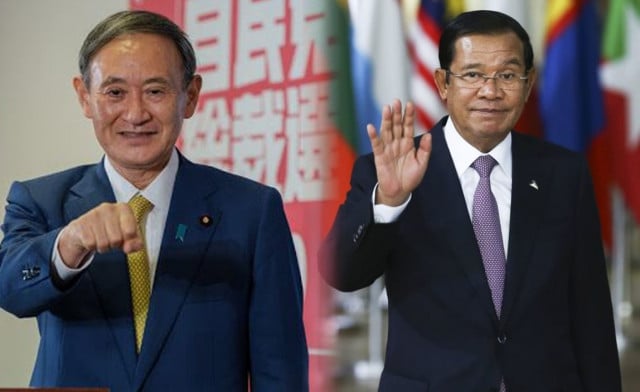 He stated this in a letter to Yoshihide Suga shortly after he was elected

PHNOM PENH--Prime Minister Hun Sen on Sept. 17 sent a message to Yoshihide Suga, congratulating him on becoming Japan's prime minister and stating that he is looking forward to working closely with him to achieve mutual benefits for the two nations.
"On behalf of the Royal Government and people of the Kingdom of Cambodia, I have a great pleasure to extend my warmest congratulations to Your Excellency on your appointment as the new Prime Minister of Japan following a landslide victory in the Liberal Democratic Party - LDP leadership election on September 14, 2020," Hun Sen said in his letter dated Sept. 17 and released to the media on Sept. 18.
Following the resignation of Prime Minister Shinzo Abe, Suga, who is 71 years old and the son of a strawberry farmer, was elected leader of the ruling LDP on Sept. 14. He was then elected by parliament on Sept. 16, becoming the 99th prime minister of the third largest economy in the world—based on 2019 gross domestic product (GDP) data.
"This overwhelming victory reflected the firm support of the LDP members as well as the trust that the Japanese people have placed upon your policy vision and leadership in overcoming the COVID-19 crisis and making economic recovery as well as in securing Japan's future with peace and prosperity," Hun Sen said in his letter.
He added that he was looking forward to working hand in hand with his Japanese counterpart to further foster friendly relations as well as cooperation between the two nations for their mutual benefits and with the ultimate goal of ensuring peace, stability and prosperity in the region.
Cambodia and Japan established diplomatic relations in 1953, and the ties between the two countries have significantly expanded over the past decades with Japan becoming Cambodia's strategic partner in 2013.
Related Articles