Hun Sen Says He May Stay in Cambodia for Medical Care once Calmette Hospital is Modernized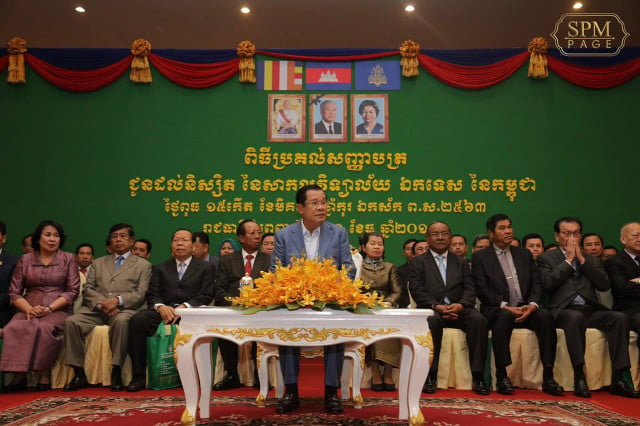 Torn Chanritheara
December 11, 2019 1:04 PM
PHNOM PENH– Prime Minister Hun Sen Wednesday said that he will stay in Phnom Penh for medical treatment instead of going abroad once Calmette Hospital has been expanded and overhauled.
Addressing students at a graduation ceremony in Phnom Penh, Hun Sen said that, after completion of the work, Calmette Hospital will be able to provide service to high-ranking officials and even King Norodom Sihamoni.
"Those who can afford it are seeking treatment in Vietnam, Thailand and Singapore," he said. "But after it is transformed into a multi-specialty hospital, I think that I, myself, will stop having medical checkups and treatment abroad and will choose Cambodian [medical] service because Calmette will have wards for even the king and other dignitaries."
Hun Sen has flown to Singapore for medical checkups and treatment, triggering criticism that even the country's leader didn't trust domestic healthcare service. His mother-in-law is now receiving treatment at Calmette Hospital that he has vowed to modernize so the hospital can treat people more effectively.
The prime minister has expressed his appreciation to the hospital staff for their professionalism and care of his mother-in-law: He said that, without them, she already would have passed away.
Hun Sen later allocated $30 million from the state coffers for the construction of a new building whose total cost is $39 million and which is nearly 20 percent complete. He also launched a fundraising campaign for the hospital, which has already generated more than $70 million for the hospital to buy modern medical equipment.
The number of operating rooms will be expanded to 30, Hun Sen said, adding that people with poverty identity cards, equity cards and Social Security Fund cards will not be charged when they seek treatment at the hospital.
Calmette Hospital, which is now a public enterprise, was built in the 1950s through French funding. Almost completely destroyed during the Khmer Rouge regime of the mid-1970s, it reopened in the 1980s as a public hospital with funding from the Cambodian and French governments.
Related Articles