Hun Sen Says One Million Jobs to Be Created through Infrastructure Projects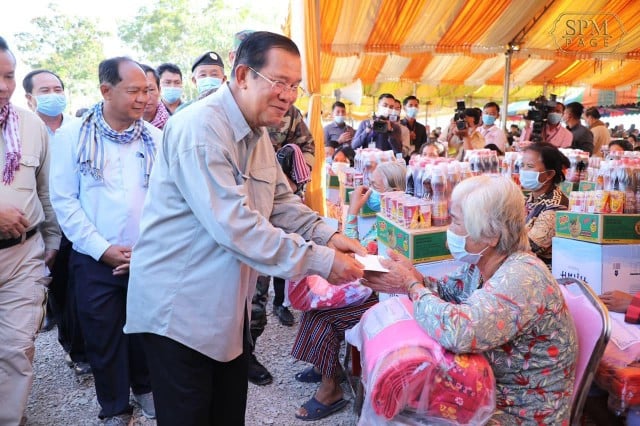 Cambodianess
October 24, 2020 9:02 AM
This aims to help the population affected by the pandemic and the recent floods, he said
SIEM REAP--Prime Minister Hun Sen on Oct. 24 said that the government has increased its 2021 national budget to create up to one million jobs to help provide people with incomes.
The Cambodian government has increased the special financial package in the 2021 national budget from $100 million to $160 million to ensure social protection and assure the well-being of people in rural areas during the Novel Coronavirus (COVID-19) pandemic and once the natural disasters are over, Hun Sen said during a visit to the flood-hit Banteay Meanchey province.
The prime minister continued that people will be able to take part in infrastructure reparation projects in their communities and in return get incomes based on the market.
He exemplified that if people can get 30,000 Riel (around $7.50) a day by working as construction workers, they can get the same amount of money when working in community development projects organized by the authorities.
"I have instructed [the government] to allocate this package to areas and provinces, which have been affected by floods," Hun Sen said. "We envisaged that this package of $160 million can provide 1 million jobs during a transition period…[through] projects that can both develop the infrastructure, which serves our local people's needs, and in the meantime enable our people to receive incomes."
According to the government's 2021 draft budget law greenlighted during the Council of Ministers' meeting on Oct. 23, the government plans to spend $7.84 billion, down from $8.23 billion last year.
Hun Sen also stressed that the pandemic has left many unemployed, creating financial difficulties for many households across the country. Therefore, the government will continue the cash subsidy scheme that has been assisting over 600,000 deprived families through a government expenditure of around $30 million monthly, he said.
In the meantime, the government has prepared additional rice seeds to distribute to families whose rice seeds were lost during the recent floods, Hun Sen said, adding that the relevant ministries will evaluate the damages.
On Oct. 22, the Ministry of Agriculture, Forestry and Fisheries announced that 4,600 tons of rice seeds and 16 tons of seeds for other crops would be delivered to farmers to help them recover from the floods and start planting again.
Related Articles