Hun Sen Says Anyone Criticizing the Government's Handling of Border Issues will be Arrested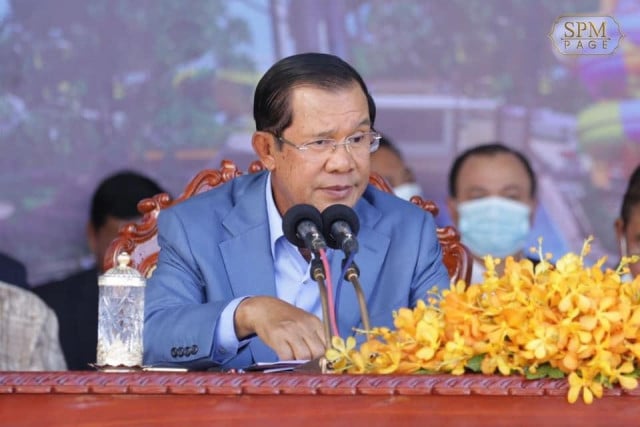 Romdoul Chetra and Phoung Vantha
August 16, 2020 9:43 AM
Such criticisms will be treated as crimes, he said

PHNOM PENH--Prime Minister Hun Sen Sunday (Aug. 16) warned that people who voice criticisms regarding border issues will face arrest.
Speaking during the inauguration ceremony of the Garden City Water Park near Phnom Penh, Hun Sen said that, even though the government was intent on resolving border issues with neighboring countries, some critics were accusing the government of "treason."
Accusing the government of committing "treason" and deliberately giving land away to neighboring countries make the Prime Minister very unhappy, Hun Sen said. Which is why anyone criticizing the government regarding border issues will be arrested, he said.
"[I] send a message [that,] as many as you [are who] come to [criticize], [we] will arrest [you] all," the prime minister stressed.
Criticizing the government's handling or the outcome of border negotiations constitutes an actual crime, and those who do so will be arrested immediately, on the spot, Hun Sen said.
Some people have suggested that voicing criticisms regarding border issues is simply advocacy for the national interest: not so, said Hun Sen. "[T]he border issue is not an advocacy issue…If anyone wants to be imprisoned, we will fulfill [their wish], as desired."
Hun Sen's comments follow a series of events triggered by the arrest on Aug. 1 of prominent leader Rong Chhun.
A representative of the Cambodian Watchdog Council and president of the Cambodian Confederation of Unions, Chhun on July 20 had led a team to Tboung Khmum Province to inspect the land along the Cambodian Vietnamese border in Ponhea Krek District's Trapaing Phlong Commune where Cambodians claimed that portions of their land had been infringed upon between border posts 114 and 119.
Chhun was arrested just a few days after he had issued a statement alleging that irregularities during the negotiations between the two countries had caused those Cambodians living along the border to lose land.
The Phnom Penh Municipal Court formally charged Chhun with incitement to cause serious social unrest under Article 495 of the Cambodian penal code.
On Aug. 13, protesters gathered at the Phnom Penh Municipal Court to demand Chhun's release, leading to the arrest of around 10 people.
Then on Aug.14, Khmer Win Party President Soung Sophorn was arrested by the Phnom Penh police. He had visited people of Trapaing Phlong Commune along the Vietnamese border as Chhun had done earlier, joined on Aug. 13 demonstrators asking for Chhun's release, and he was planning a series of events to request his release.
Several national and international organizations have called on the government to drop charges against Chhun and other border critics, stressing that those arrests constituted a direct threat to Cambodians exercising their right to freedom of expression.
They also called for the release of those who demonstrated for the release of Chhun, considering their arrest a violation of fundamental human rights.
Related Articles