Hun Sen Says to Put Hope in COVID-19 Vaccination as Japan's Vaccine Donation Arrives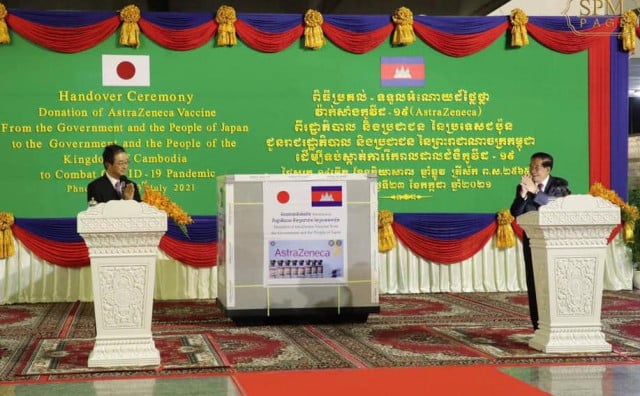 Preteens and teenagers' vaccination is about to start, which will help develop herd immunity against the coronavirus, he said
PHNOM PENH--Prime Minister Hun Sen on July 23 said that the country has seen a decline in COVID-19 infections at factories as the country continues to step up its vaccination campaign and more than 6.5 million people have already been vaccinated.
During the handover ceremony of 330,000 doses of AstraZeneca vaccine—the first shipment of one million doses to be donated by Japan—the prime minister emphasized that Cambodia, just like the rest of the world, still maintains hope in vaccination, expecting that this will be key to controlling coronavirus transmission, the loss of lives as well as bringing back normalcy and enabling social and economic activities to resume.
Hun Sen pointed out that the country is starting to see a decline in infections at virus hotspots such as factories while at least 6.5 million people have received their first vaccine doses. "We still have hope in vaccines and now there has already been a decline in infections in factories, and when there are infections, they are still mild, not malign or a death threat."
"At any costs, the government has to achieve the vaccination of Cambodians who have reached the age for vaccination and are allowed to get vaccinated by medical experts," he said.
As of July 23, Cambodia had registered 72,104 COVID-19 cases throughout the country with 68,548 recoveries and 1,254 deaths. Meanwhile, 6,552,632 people have received their first dose of the vaccine while more than 4.3 million people have already gotten their second shot.
So far, Cambodia has been able to secure over 18 million vaccine doses. These have included 6.2 million doses of Sinopharm and 10.5 million doses of Sinovac from China; 320,000 doses of Covishield through the COVAX facility for developing countries; one million doses of AstraZeneca from Japan; and more than one million doses of Johnson & Johnson donated by the United States.
Japan pledges to continue assisting Cambodia in its fight against COVID-19
Delivering his speech in Khmer at the vaccine handover ceremony on July 23, Japanese Ambassador Masahiro Mikami said that Japan's vaccine donation will assist the Cambodian government's effort to defeat the pandemic and support the population.

"Based on our longstanding friendship and situation of COVID-19 transmission, the government of Japan decided to provide one million doses of AstraZeneca vaccine to Cambodia," Mikami said.
This vaccine assistance was also made to help Cambodia deal with the impacts of the pandemic on the country's health system and the livelihood of its people, he said.
Mikami added that Japan will continue to cooperate with the Cambodian government to stem the spread of the virus and support the development of the country.
Over the past months, Japan has supported Cambodia's efforts against COVID-19 with a series of donations including 100 ambulances, 26 ultrasound diagnostic equipment units, 10 X-ray inspection equipment units, 100 ICU beds and 63 oxygen generators.
Hun Sen, who personally received the vaccine donation, thanked Japan's government and people for their ongoing support and assistance.
"Cambodia is grateful for the assistance provided by the Japanese government, which includes funding and equipment for Cambodia as an effort to fight the pandemic," he said.
Hun Sen also praised Japan's action, calling it a "highly responsible behavior" in assisting countries with limited resources such as Cambodia.
Vaccination rollout for preteens and teenagers kicks off on Aug. 1
During his address, the prime minister also announced that the vaccination campaign for people 12 to 17 years old will start on Aug. 1.
"I will be presiding over the vaccination launch at Calmette Hospital on Aug. 1 and I will bring along my grandchildren whose ages are over 12 years old to get injected," Hun Sen said, calling on all guardians and parents to bring their kids for inoculation.
The vaccination drive will start in the Phnom Penh Municipality and expand when more vaccines become available.
According to official statistics, Hun Sen said, the number of youngsters aged 12 to 17 is around 2 million and, by including them in the vaccination program, herd immunity may be created as up to 12 million people will have been vaccinated.
"If we can vaccinate 12 million people, we can achieve up to 65 percent of our entire population," he said.
Related Articles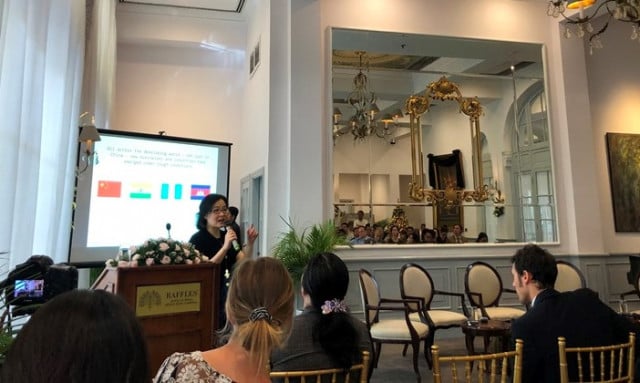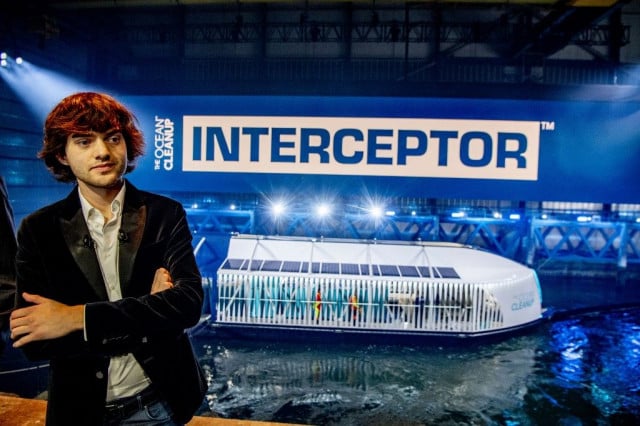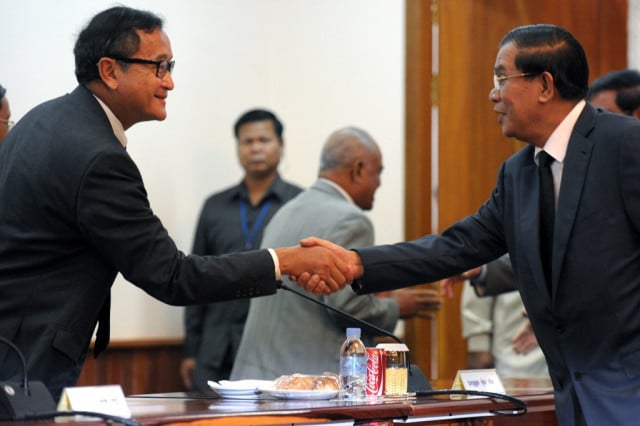 September 24, 2019 7:19 AM