PM Hun Sen Sends Condolences over Abe Killing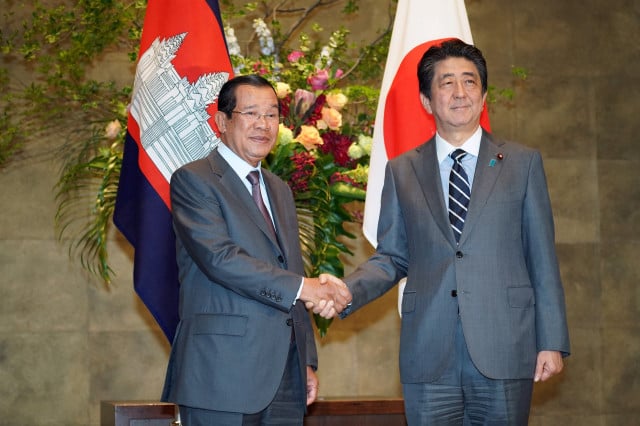 Former Japanese PM was friend of Cambodia
PHNOM PENH – Prime Minister Hun Sen has sent a message of condolence to the Japanese government and the family of former prime minister Abe Shinzo who died after being shot at a political campaign event.
Hun Sen condemned the killing as absolutely unforgivable. Abe, 67, died in hospital in the western Nara prefecture on Friday, July 7, hours after being shot.
"His Excellency Abe will be dearly missed, and his legacy will be forever remembered," Hun Sen said in the letter to Japanese Prime Minister Fumio Kishida.
"I was extremely shocked and deeply saddened to learn about the passing of His Excellency Abe Shinzo, resulting from the daylight assassination."
"His Excellency Abe Shinzo, who was an outstanding Japanese statesman, had been widely acknowledged and praised for his able leadership to move Japan forward and for his active contribution to peace, stability, and prosperity in the region and beyond.
"A long-time good friend of mine and Cambodia, the late Prime Minister Abe Shinzo had worked closely with me in enhancing the bilateral relations between Cambodia and Japan during his premiership including the elevation of our bilateral cooperation and Strategic Partnership in 2013."
Japan News reported that Tetsuya Yamagami, 41, of Nara City, had been arrested at the scene. He was detained on suspicion of attempted murder.
Police said Abe was believed to have been shot at close range. A gun had been recovered. Public broadcaster NHK reported that Yamagami said he did not like Abe.
Related Articles