Hun Sen Speaks of Clean Coal and Low-Carbon Energy at an International Forum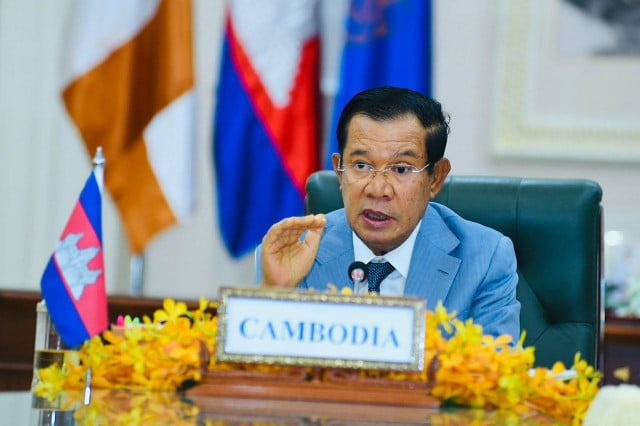 September 4, 2021 11:05 AM
These issues must be dealt with in the nearest future, he noted
PHNOM PENH--Prime Minister Hun Sen addressed the issue of clean-coal technology on Sept. 3, speaking of the need to accelerate the decarbonization process as part of the efforts to deal with the climate crisis.
Speaking at the Taiyuan Energy Low-Carbon Development Forum 2021 on Sept. 3, Hun Sen highlighted the critical issues facing the world at the present time, which range from energy, climate change and environmental degradation, requiring greater attention and action, he said.
These continue to threaten food security, public health, the ecological system as well as social and economic infrastructures, Hun Sen stressed.
"This reflects the necessity of revolutionizing energy in a speedy, just and equitable way in order to shift from the use of high carbon emission to the use and production of clean and renewable energy in a more effective way," he explained.
The world needs to work on expediting the energy revolution but that needs to be done with a just and equitable approach, Hun Sen said.
In the meantime, he said, there must be low-carbon energy development through the introduction of what is called "clean coal," the use of carbon-sequestering technology and hydrogen generated from coal commonly known as "brown hydrogen."



"These will be necessary strategies to combat climate crisis on a larger scale," he added.
Diversifying energy sources remains one of Cambodia's biggest challenges as the country tries to deal with a marked surge in energy demand driven by rapid development with which it has coped by embracing dirty energy sources such as fossil fuel and coal power that are known as significant factors contributing to the climate crisis.
Speaking of decarbonization efforts and citing the Updated Nationally Determined Contribution to the Secretariat of the United Nations Framework Convention on Climate Change, Hun Sen recalled that Cambodia has pledged to cut down 64.6 million tons of carbon dioxide in forestry, energy, industry, agriculture and waste management.
This commitment is part of the country's pledges under the 2015 Paris Agreement on climate change, which Cambodia and more than 190 countries' signatories have agreed to.
A long-term strategy to enable the country to achieve carbon neutrality will be completed by late this year, Hun Sen said.
More international cooperation needed
The prime minister went on to point out that addressing these energies, climate and environmental issues are extremely arduous and require the involvement of all parties.
"With this, I call for more active dialogue and international cooperation between all stakeholders with the purpose of creating a green future with sustainability and without leaving anyone behind," he said.
Hun Sen added that climate finance and technological transfer to low-income countries also need to be further embraced.
Related Articles