Hun Sen to Sign Border Agreements with Vietnam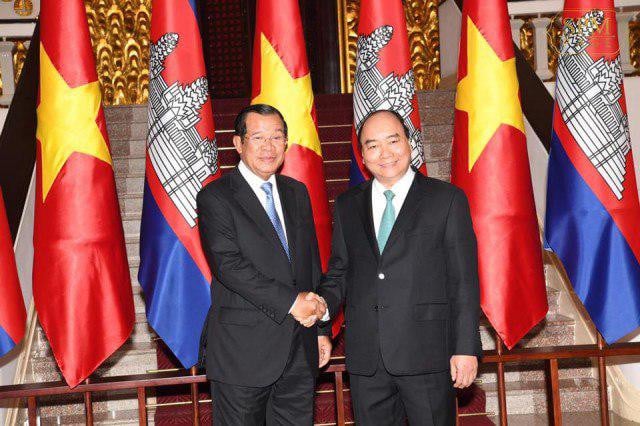 Phoung Vantha
October 2, 2019 1:43 PM
Prime Minister Hun Sen will pay an official visit to Vietnam later this week to sign border demarcation agreements, according to a press release of the Ministry of Foreign Affairs and International Cooperation published Wednesday.

During his visit on Oct. 4 and 5, Hun Sen and his Vietnamese counterpart Nguyen Xuan Phuc will preside over the Review Conference on Cambodia-Vietnam Land Boundary Demarcation, which is expected to end with the signing of two legal documents to acknowledge the completion of 84 percent of the land boundary demarcation work, the release read.
Var Kimhong, chairman of the Cambodia Border Affairs Committee, told the newspaper Khmer Times Tuesday that documents they will sign support a 1985 supplemental protocol and a 2005 agreement on border demarcation.
"The meeting also aims to speed up the resolution of an ongoing dispute over the remaining 16 percent of the border yet to be demarcated," he said.
During the 2-day visit, the two prime ministers will hold talks on several bilateral, regional and international issues that are of mutual interests and common concerns, the ministry release stated.
"After the meeting, the two Prime Ministers will preside over the signing ceremony of a number of documents on promoting bilateral cooperation," the ministry's release said, adding that they will both address the audience at the opening of the Vietnam-Cambodia Investment and Trade Promotion Conference Friday.
During his visit, Hun Sen will pay courtesy calls on Nguyen Phu Trong, general secretary and president of Vietnam, and Nguyen Thi Kim Ngan, president of the National Assembly in Vietnam.
Related Articles