Hun Sen to Update the Public on the "Nov. 28" COVID-19 Community Spread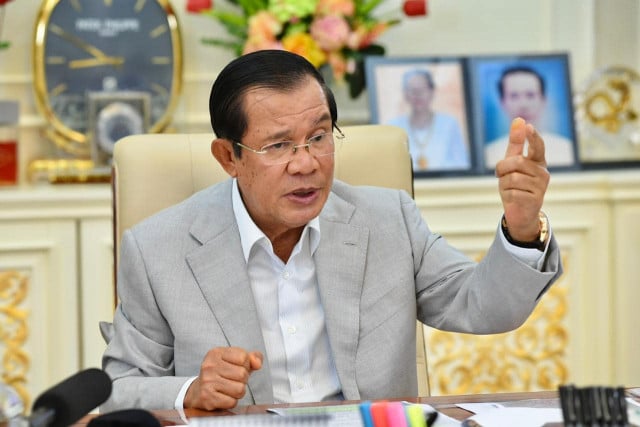 Torn Chanritheara
December 28, 2020 6:48 AM
He will speak of the current situation during a live television broadcast

PHNOM PENH--Prime Minister Hun Sen will address the nation at 9 am Tuesday (Dec. 29) and, according to the television network TVK, he is expected to announce that the COVID-19 community outbreak first identified one month ago on Nov. 28 has now come to an end.
"The General Department of National Television of Cambodia (TVK) will broadcast special live the address of Samdech Akka Moha Sena Padei Techo Hun Sen, Prime Minister of the Kingdom of Cambodia, regarding the closing of the November 28 community event and other important issues," TVK said on its Facebook page.
Hun Sen will be speaking from his residence in Kandal Province and his speech will be livestreamed on TVK and other stations as well as on his official Facebook page, TVK said.
The "Nov. 28 community outbreak" refers to the first transmission of the coronavirus to have been identified within the country, which turned a relatively controlled situation into fear of widespread transmission. Schools, cinemas as well as museums were ordered closed and gatherings of more than 20 people prohibited. This also led to the government authorities cancelling the grade-12 national exams and granting all grade-12 students diplomas without grades.
Hun Sen's address on Dec. 29 will be his second live broadcast on the event. In his first address on Dec. 15, he had informed the population that the outbreak was under control but was not yet over.
So far, 41 people have contracted the coronavirus in relation to the Nov. 28 community outbreak, with 38 patients having recovered and three who remain hospitalized. There has been no new case related to the outbreak for 14 days.
As of Dec. 28, Cambodia reported 364 confirmed cases of COVID-19 since the start of the pandemic with 360 having made full recovery and four patients hospitalized.
Dec. 29 also marks the 22nd anniversary of the implementation of the Hun Sen government's Win-Win Policies, and the prime minister is expected to also mention in his speech this initiative that led to the complete dismantling of the Khmer Rouge forces in 1998 and put an end to war in the country.
Related Articles