Hun Sen to Visit Beijing but not Wuhan City to Inquire on Cambodians' Health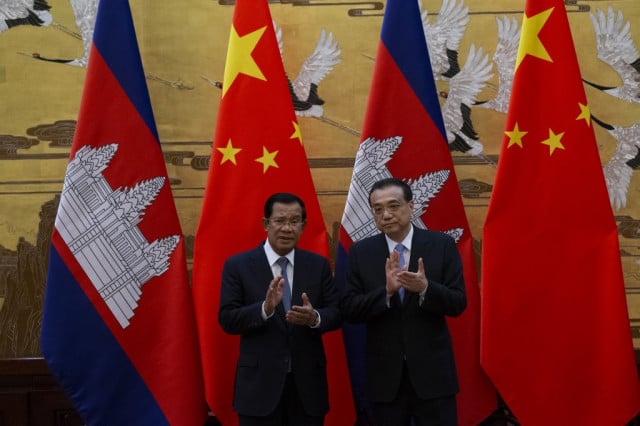 Torn Chanritheara
February 5, 2020 7:11 AM
PHNOM PENH-- Prime Minister Hun Sen will make a stop in Beijing on his way back from Seoul to follow up on China's efforts regarding the Cambodians in China and the Cambodian students trapped in Wuhan City where the 2019 Novel Coronavirus outbreak began.

According to a message he posted on his Facebook page, he is scheduled to meet with Chinese Prime Minister Li Keqiang at 5:15 pm and with Chinese President Xi Jinping at 6:00 pm. He will leave Beijing tonight to return to Cambodia.
His request to personally visit the students in Wuhan City was denied by the Chinese authorities due to concerns for his health, he wrote.
"Because our Chinese friend acknowledges my concern for Cambodian citizens and students living in China… the Chinese government is allowing me to visit Beijing…to find out more about Chinese attention [paid to Cambodian] students living and studying in Wuhan as well as in China," Hun Sen said.
The prime minister has been in Seoul this week to attend the Universal Peace Federation World Summit 2020 held in that city.
On Monday, the Cambodian government said in a release that all relevant ministries were working closely with the Chinese Ministry of Foreign Affairs and the Chinese authorities regarding the welfare of Cambodians currently in China where the Coronavirus outbreak started last December.
This was followed by a press release from the Ministry of Education, Youth and Sport saying that each of the 23 Cambodian students in Wuhan City has each been provided with $500, adding that they were in good health. They are not allowed to leave their university campuses.
Since the start of the Wuhan coronavirus last December, numerous countries including Asean nations have repatriated their nationals from China out of concern for their health.
On Jan. 30, Hun Sen said that Cambodia would not suspend flights to or from China, or evacuate Cambodians as doing so could affect the country's economy and bilateral relations with that country.
According to the Johns Hopkins (University) CSSE, as of Wednesday 12:00 pm, 24,505 cases of the Wuhan coronavirus had been confirmed in the world, out of which 24, 292 are in China. A total of 906 patients have recovered.
The death toll due to the virus stands at 493.
Related Articles