Hun Sen Warns Against Officials Abusing the Pandemic Relief Fund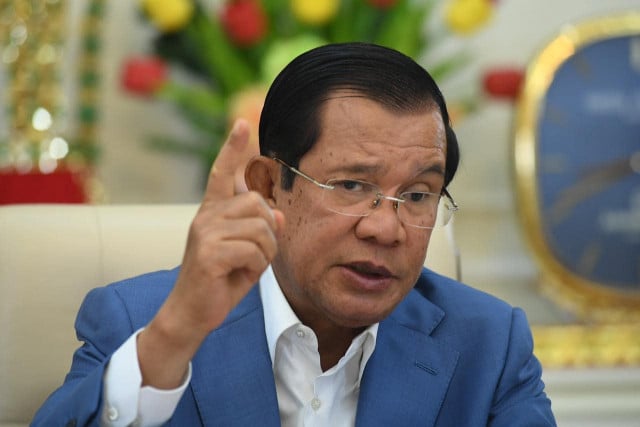 Phoung Vantha
June 30, 2020 8:32 AM
As the distribution of the Pandemic Relief Fund relies on community leaders, Hun Sen said he will take action against corrupt officials who try to profit from the fund.

PHNOM PENH--The government on Tuesday (June 30) called on the local authorities to work transparently in the implementation of the Pandemic Relief Fund. To mitigate the economic fallout from the Coronavirus Disease 2019 (COVID-19) pandemic, Prime Minister Hun Sen unveiled the Cash Assistance Program for Poor and Vulnerable Families during the Fight Against COVID-19 on June 24, where he stressed that this was only a temporary measure.

Today Hun Sen ordered authorities at all levels, especially to the local authorities in all communes, to concentrate on doing this work correctly and consistently.

"I will take serious action and there will be no exceptions to those who commit corrupt actions if this is found in any village or commune across the country," he said.

Hun Sen issued a warning to authorities who register friends and family as poor and vulnerable in order to exploit government programs designed to help Cambodia's least economically developed communities.

The Pandemic Relief Fund will rely on the Ministry of Planning's IDPoor framework, through which village and commune chiefs will identify the poorest members of their community and report back. Once registered through the IDPoor program, families living in rural poverty can receive $20 a month while those living in Phnom Penh can receive $30 per month, apparently due to the higher cost of living.

Currently, the government has identified some 560,000 poor and vulnerable families, equating to roughly 2.3 million Cambodians who will be the beneficiaries of the Pandemic Relief Fund, but Hun Sen conceded last week that the government cannot support the poor for long and as such, the fund will last just two months, providing $25 million nationally per month.

Hun Sen did however note that if the economic situation in Cambodia does not improve after two months, there would be a possibility of extending the Pandemic Relief Fund program.

The Ministry of Planning recently issued two telephone numbers: 095 363 688 and 012 391 016 for people to call for questions regarding the IDPoor card.

Some residents are claiming that they are living in extreme poverty but are unable to obtain IDPoor cards for food and medical aid due to discrimination by local authorities. Given that the IDPoor framework relies on community leaders, most of whom are members or supporters of the ruling Cambodian People's Party, there is concern that the relief fund will be distributed only among those who vocally support Hun Sen politically.


Related Articles