Hungarian Foreign Minister Tests Positive for COVID-19 after Cambodia Visit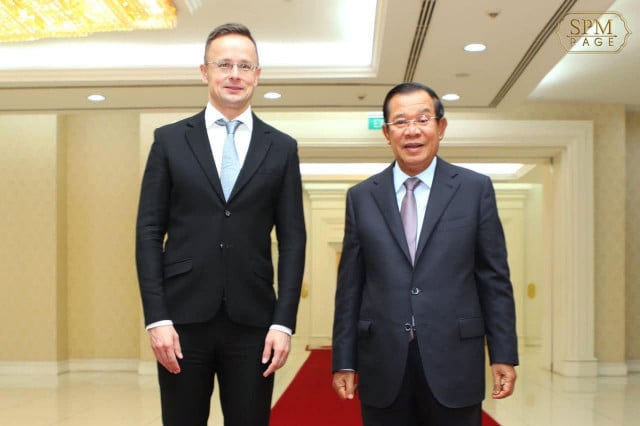 Phoung Vantha and Gerald Flynn
November 4, 2020 9:47 AM
While it remains likely that Hungarian Foreign Minister Péter Szijjártó contracted the virus elsewhere, he has since met with numerous high-ranking Cambodian officials, including Prime Minister Hun Sen.

PHNOM PENH--Hungarian state media outlet Magyar Távirati Iroda (MTI) has on Nov. 4 reported that Hungarian Foreign Minister Péter Szijjártó has tested positive for COVID-19 in Thailand the day after an official visit to Cambodia where he met with numerous high-ranking officials.
Szijjártó arrived in Cambodia on Nov. 3 as part of an official visit where he signed an agreement on air transport services between Cambodia and Hungary, as well as memorandums of understanding with both the Ministry of Water Resources and the Ministry of Agriculture, Forestry and Fishing.
The agreements, approved by each of Hungary's equivalent ministries, brought Szijjártó into contact with Cambodian leadership, including; Prime Minister Hun Sen, Foreign Affairs Minister Prak Sokhonn, Water Resources Minister Lim Kean Hor, Agriculture Minister Ven Sakhon and Mao Havannall, Secretary of State for Cambodia's State Secretariat of Civil Aviation, Chea Serey, director general of the National Central Banking among others.
Thailand's Health Ministry confirmed that Szijjártó was the only person in his 12-person team to test positive for the virus, following two consecutive positive results. He is scheduled to evacuate from Thailand and return to Hungary on the afternoon of Nov. 4 in a separate plane from his team.
It is unclear whether Szijjártó was tested for COVID-19 upon entry to Cambodia, with Health Ministry spokesperson Or Vandine declining to comment on the matter. However, guidelines were released by the Ministry of Health in August 2020 that stipulated foreign diplomats required a health certificate declaring them free of COVID-19 before they could enter the country.
Similarly, the same ministry announcement required foreign diplomats to be tested for the virus upon arrival at airports, with all foreign embassies expected to sign a memorandum of understanding with the Health Ministry to prevent inbound COVID-19 cases.
As such, it is unclear whether Szijjártó took the test as required or whether the Cambodian tests simply failed to detect the virus within him and the fact that he has tested positive for COVID-19 one day after leaving Cambodia raises more questions than it answers.
Spokesperson for the Ministry of Foreign Affairs Kuong Koy could not be reached for comment, although multiple reporters attempted to contact him. However, the ministry's official statement on Nov. 3 welcomed the Hungarian Foreign Minister and even noted that the pandemic might pose issues.
"Your visit at this time of raging pandemic and socio-economic extreme challenges reflects well your strong commitment to further strengthen our long-standing friendship and close cooperation," the ministry's statement read. "A commitment shared by Cambodia, of course."
Veng Sakhon Minister of Agriculture, Forestry and Fisheries said that he will self-isolate after he reviewed the information provided by Hungarian media.
Prime Minister Hun Sen has, as of press time, not made any comment on his potential exposure to the virus, but meetings between Szijjártó and himself—as well as an estimated eight other high-ranking Cambodian officials—all took place without facemasks or social distancing.
Related Articles