iDE helps farmers reduce plastic and chemical in agriculture to tackle emission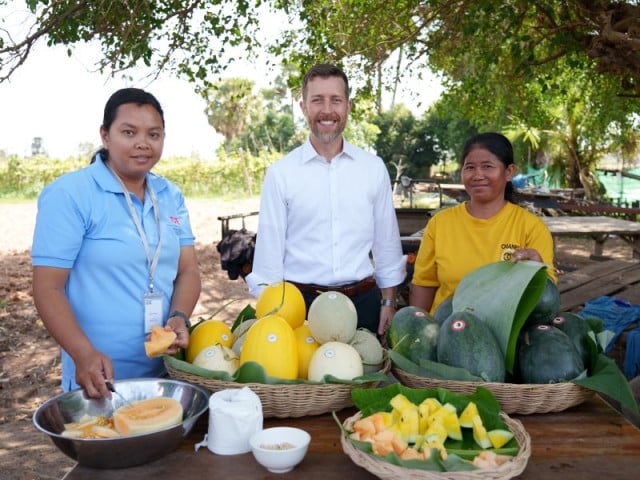 PHNOM PENH--Doing agriculture can pose threat to the environment with unconsciously excessive use of plastic and chemical control on pests and diseases. These substances are the contributors to carbon emissions.
Farmers need assistance to manage their plastic and an alternative to chemical usage to improve their crops. To help tackle the issue, the International Development Enterprises (iDE Cambodia) has introduced climate-smart agricultural practices under the CSmart program to Cambodian farmers.
Farmers use plastic for yield, harming the environment
Kevin Robbins, iDE Cambodia Country Director, said the use of plastics in agriculture does contribute to climate change.
"The practice of burning plastic in the open fields, for example, not only harms humans, animals, and plants by releasing carcinogenic substances but also contributes to climate change by emitting CO2, Dioxins, and Furans," he said.
The study by the Resilience Development Initiative (RDI) in partnership with iDE Cambodia has found that farmers enjoy significant advantages thanks to the plastic
Plastic has helped millions of farmers worldwide to increase production, decrease crop losses and conserve water through methods like mulching, drip irrigation, and greenhouse films.
However, Cambodian farmers in horticulture produce roughly 390-625 kilograms of potential plastic waste per hectare and per year, which is creating challenges for human and environmental health, the study issued in February said.
The study, conducted in Battambang, Banteay Meanchey, Oddar Meanchey, Siem Reap, and Kandal, also found that farmers dispose their plastic waste without proper management by burying, burning, and illegal dumping
"Burning plastic can release carcinogenic substances and other toxic particles into the air, affecting farming families and livestock," the study read.
The mulching film in particular contributes significantly to the amount of plastic waste that remains in the field, producing macro- and micro-plastics that end up in the soil, rivers, and underground water, according to the study.
Plastic mulch is estimated to produce an average of 235 kilograms in one hectare per year and drip lines produce an average of 228 kilograms in one hectare per year.
What to do with the use of plastic mulch and drip lines?
In the study, experts are concerned that Cambodian farmers might continue to use plastic if there are no new practices or technologies, making it even more crucial for the industry to find improved waste disposal techniques.
67​ percent of surveyed farmers who use plastic mulch plan to continue using it. 98 percent of surveyed farmers were aware of plastic mulch's benefits while 80 percent wanted to switch their current waste management practices.
One potential solution is biodegradable plastic mulch. Yet, it has not existed in the Cambodian market, the study pointed out.
Comparatively, compostable bags can decompose completely in less than two years while biodegradable bags take five years to break down.
Some products, which must be imported and are currently too expensive for widespread use within Cambodia's agricultural sector, can fully decompose in less than 4 months after being buried in the soil.
Kevin Robbins of iDE said through CSmart, iDE will research alternatives to conventional plastic mulching and encourage farmers to use rice straws for mulching their crops when it is appropriate.
"The project is investigating alternative options, either using biodegradable plastic film or organic mulches," said Robbins. "Biodegradable films produced from materials such as starch and cellulose made from corn, sugar cane or cassava are highly degradable and reported to be compostable."
He said the organization will encourage farmers to use good-quality plastic mulching film and recycle the used drip lines materials for trellising or fencing.
The opportunity to scale up affordable biodegradable plastic mulching film will be explored in collaboration with the development partners.
The current drawbacks of biodegradable films are their high price and limited availability in Cambodia. For dry season crop production to reduce evaporation, natural, organic mulches made of rice straw, water hyacinths, and other organic materials are quite suitable, said Robbins.
These organic mulches can help the soil retain moisture and decompose into compost. The drawback of using biodegradable natural materials is the risk of spreading diseases and pests, he said.
Practicing integrated pest management methods
Kevin Robbins also added that in Cambodia, 30–40 percent of vegetable crop losses are attributable to pests and diseases. To control pests and diseases, farmers frequently use chemicals, some of which are hazardous to both humans and the environment.
Robbins stated that different key climate-smart production technologies are introduced to farmers in target provinces such as Siem Reap, Banteay Meanchey, and Oddar Meanchey to support better yield, and enable year-round production while safeguarding the environment.
Phan Sokhen has been growing spring onions for 5 years in Siem Reap. She is benefiting from the assistance from iDE Cambodia, making her crops abundant. Eighty percent of the villagers grow spring onions, and most of them have been provided technical assistance by iDE.
Sokhen said she has been trained in the use of micro irrigation and planting technical advice from the organization.
"This new spray tube irrigation saves a lot of time and can be watered by just turning off the light switch. Then the water will flow by itself," she said.
Kevin Robbins of iDE said healthy and disease-free seedling is crucial for the success of crop production. CSmart has helped farmers to conserve the local healthy seed that is more tolerant to climate and pests and diseases.
The combination of using cocopeat, compost, biological control agents and the seedling tray is great for healthy seedling production and an insect-proof nursery structure can protect the seedlings from insect vectors of viral diseases, he said.
"We teach farmers to put organic matter and compost back into the soil and apply practices that increase soil carbon and feed soil microorganisms," said Robbins.
He said that farmers are taught to use Integrated Pest Management Practices, an environmentally friendly approach to crop production and protection, including biological control methods like horticulture soap, and oil, copper or sulfur compounds and biological control agents using beneficial fungi or bacteria to control pests.
With new mindsets, practices, services, and technologies, farmers in Cambodia may be able to adopt a clean approach to their agriculture production.
CSmart is an initiative of iDE, supported by the New Zealand government, targeting 6,000 farmers. It is a five-year program, running until 2024, aiming to help increase the livelihood of local farmers by introducing them to the use of climate-smart technologies.
Some key technologies in the program include a solar water pump for energy efficiency and low carbon emission, water-conserving and water use efficacy using micro-irrigation, soil fertility and structure improvement using compost, low till, crop rotation and crop diversification, and so on.
Related Articles