Identity Is One's Value: a Cambodian Artist Reflects Bunong Women in Paintings, Photos and Fabric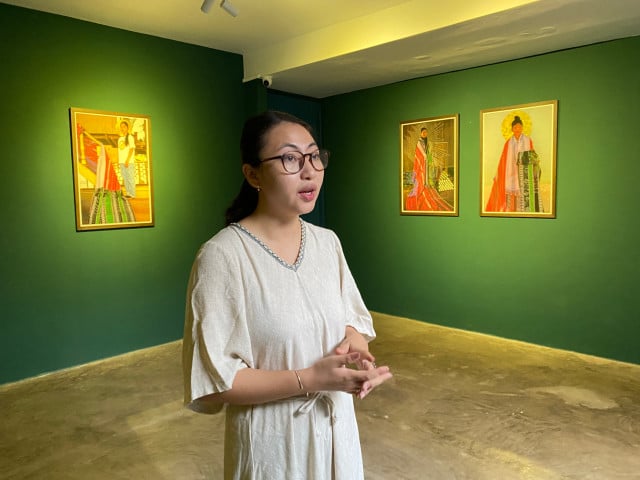 February 26, 2023 8:41 AM
PHNOM PENH — "Taste, like identity, has value only when there are differences," an Italian activist has said. This is what Cambodian artist Hul Kanha kept in mind as she explored the differences that are part of Bunong women's identity.
The result is a series of mixed-media works entitled "Values" currently exhibited in Phnom Penh that features Bunong women of Mondulkiri province, in the northeastern part of Cambodia, in which she integrated the distinctive deep-color fabric they produce.
Kanha said the idea for this series came to her after exhibiting her "One Hundred Hands" series in a group show in 2020. While working with her mother, women and girls of her village during a workshop she had organized, Kanha recalled the proverb "women have 100 hands" and had decided to express in a new way all the different roles that women play in society.
"After finishing the workshop with the villagers," and completing her 100-hands series, she said in interview, "I asked my mother—who is my best friend—about her thoughts on the work. She said it was good and asked me whether I wanted to continue doing such work.
"I said I'd liked to but I did not know where I should start," Kanha said. "My mother asked me what responsibilities the indigenous women in Mondulkiri have in their community and whether they are respected by others. These questions led me to Mondulkiri province, which is the province I had long wished to visit."
Kanha began working on this series in January 2022 after she was awarded a grant by the NGO Cambodian Living Arts (CLA). She went to Dak Dam and Bousra communes, home to the Bunong community. Trying to get acquainted with the villagers, Kanha soon gained their trust and started to ask questions about their lives and beliefs. This led to her series "Values" in which she combines photography, painting and collage.
In the works, Kanha wanted to focus on the values of the old and the new generations in the community as society is changing and so is the livelihood of the rural indigenous people.
"I wanted to know whether or not the value of each person is different, particularly of Cambodian women and indigenous women," she said. "They have the same value but with variations based on the context."
As Kanha explained, the Bunong indigenous women have a unique lifestyle based on the long-practiced habits and beliefs of their community as is the case of Cambodian women. The uniqueness and the differences in their ways of living and in their beliefs constitute their value, she said.
"Cambodian and indigenous women have a different ways of living, so we cannot compare them to one another," she emphasized. "So, I think it is the value of their identity. Value varies based on different contexts and society."
Though the way of life of indigenous women is evolving and is being influenced by exterior factors, they retain value, which is their identity, culture and lifestyles, Kanha said. The Bunong women still follow and maintain their culture and traditions, especially their language.
Community members in Dak Dam commune spoke to her in Khmer but communicated among themselves in their own language, Kanha said, adding that only a few children could communicate in Khmer.
"This is the point that I think is the value and the significance of them:…their language," Kanha said.


Artwork entitled "Responsibility, 2022" by artist Hul Kanha. Photo: Photo: Teng Yalirozy
The "Values" artworks
Exhibited at the Silapak Trotchaek Pneik gallery in Phnom Penh, Kanha's "Values" series consists of 13 mixed-media works featuring Bunong girls and women: photographs on which she worked with gold and silver silk thread, black and white pencils, and gold acrylic.
Kanha's work on photographs usually involves sketching, cutting, and sewing on her prints. For this series, she cut off some parts of the photographs and sewed pieces of acrylic-painted paper according to the flow of the story, she explained.
When asked why she chose the color gold, she said she was influenced by the popular Cambodian proverb, "men are like gold, women are like white cloth."
Kanha learned the proverb from her mother, she said. According to this saying, she explained, men shine and are regarded as gold even if they make mistakes. On the other hand, since women are white cloth, their mistakes are regarded as a black drops dripping on the white cloth, which are hard to remove, making them irresponsible and lost.
"But today, most [women] can see their value as well as their responsibilities," she said.
Kanha always incorporates cloth into her work as women need it. Her previous series of works exhibited in a group show was entitled Khmer Sarong after the traditional long piece of cloth that people wrap around their body.
This time, she used an "indigenous sarong or garment" to represent the value of the Bunong indigenous women. "Cloth is important for me and other women," she said. "When I was young, I did not have enough clothes to wear. Moreover, women need clothes to cover themselves and to look beautiful…It all represents women."
One of her photographs features a mother, son and daughter with their eyes covered. The painting is entitled "Sacrifice," Kanha said, as it conveys the sacrifice of the mother who also teaches her children the value of sacrifice.
Asked which of her works she prefers in this series, Kanha said the "28 Days" that features a pregnant woman. The series, she said, means to show that these women give birth and raise children, caring for them as Cambodian women do.
However, unlike Cambodian women, the Bunong women she met carry their babies on their backs in traditional baby carriers as they go about their day. The community she visited adheres to traditional lifestyle in a proportion of nearly 80 percent, Kanha added.
Art to escape depression and find oneself
Born in 1999, Hul Kanha moved to an orphanage in Siem Reap city in 2010 so she could get an education. But children were getting so little food that she knew she had to leave in order to survive. So she left in 2013, lived at one organization's facility for one year and then went to live with an uncle she regarded as her father.
While in high school, Kanha went through depression in 2017 to the point of having difficulty breathing, she said. Feeling different from the other students as she was from a rural area, with no father and her mother living far away, she isolated herself.
This is when Kanha started to draw. "Sometimes, I would get up at three in the morning to draw," she said. "Drawing is the tool that eases and frees my emotions as I can talk with the drawing."
In 2019, having completed high school, Kanha started to meet artists. Uncertain as to who she was and wanted to become, the only thing she knew was that she liked drawing. This led her to make a huge decision: to leave her uncle and live alone to find herself.
After joining the Siem Reap-based Open Studio Cambodia in 2019, Kanha started to speak to her mother on a regular basis and to produce artworks inspired by her mother's life story and the questions she was posing. Since 2020, her work has featured in several group exhibitions, this exhibition in Phnom Penh being her first solo show.
"I tried to find myself and identify my weak points, I tried to find out whether this society had hurt me or I had hurt myself," Kanha said. "I gradually came out of depression.
"My message to the young people is that I want them to love themselves before loving others," she said. "Only by loving and knowing yourself can you solve your problems. When you love yourself, you dare to accept and make decisions."
Hul Kanha's work has been shown in group exhibitions in France and United States.
The exhibition at the Silapak Trotchaek Pneik gallery, which is located on Street 830 off Sothearos Boulevard, runs through April 30.
For more information on Silapak Trotchaek Pneik gallery
Multimedia artwork by artist Kanha Hul entitled "Sacrifice, 2022." Photo: Teng Yalirozy
Related Articles