If You Want a Return to Normalcy, Get Vaccinated!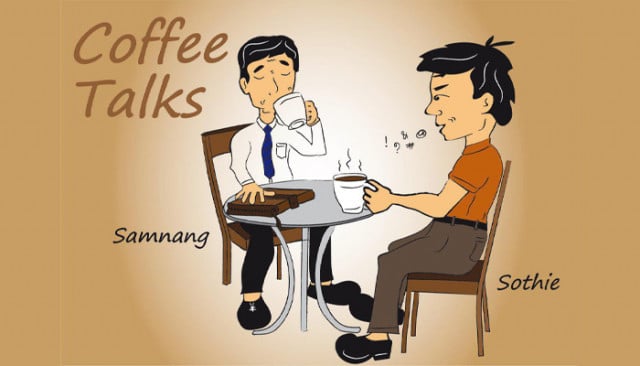 Cambodianess
April 2, 2021 9:15 AM
Sothie and Samnang are discussing why some people decide to skip vaccination, which is a mean to reduce COVID-19 infection. Those people claim that it is their right and voluntary whether they want to get vaccinated or not. The two friends believe that vaccination is the only chance that can bring their livelihood back to normal even though it cannot be 100 percent the same.
Samnang: Even many people have been waiting in long queues for the vaccines, I see some people do not care about anything at all. Some claim that they do not want to keep themselves waiting in long lines. Some have been suggested by their parents not to get vaccinated. Some others decide not to do it due to their safety reason. I appreciate some elderly people who have waited in lines since the early hours of the morning. Some of those elders were not even accompanied by their children.
Sothie: I do not understand too, Samnang. Those people do not consider getting the vaccine. However, at the same time, they also fear being infected. They are afraid of the infection, but they are lazy to get the vaccines. In the end, they claim that it is voluntarily. I believe that the phrase "voluntary basis" is the lawful phrase of the health sector. However, based on the government, people should be vaccinated to reduce the mounting pressure on society and the economy.
Samnang: Well, please explain to me in more detail. I want to record your voice and send it to my family members at home.
Sothie: First of all, I want to say something about a "voluntary basis". We have to agree that these vaccines have been newly developed by medical experts. More than a year ago, I was also urgently waiting for the availability of vaccines. Well, the morality of the medical personnel is to save lives. However, they just cannot always be responsible for every severe or unexpected consequence after the vaccination.
Samnang: How about the second one?
Sothie: Secondly, vaccination is a must, except that you are too lazy or you have any other diseases which make you ineligible to get it. Look at other parts of the world! Now, almost every country is seeking to get its people vaccinated. Countries are competing for vaccines. The Cambodian government also manage to get as many vaccines as possible to vaccinate its people. If we are vaccinated, we can be less worried about getting infected. If we have a good health condition, we can go out and earn income for the family. When we can go out and perform our duty, companies, enterprises or government institutions will be functioning well again. The nation will experience less social and economic tension.
Samnang: I saw some people writing on their Facebook, expressing that after getting vaccinated, the infection can still occur.
Sothie: Well, it is their right to have their own opinions. However, I do believe that if those people begin to think deeper into the problem, read more reliable news and accept the truth with the use of reasoning, they might probably be now waiting in queues to get the vaccines just like the two of us.
Samnang: Yes, of course! The health experts have explained that even though you have been already vaccinated, you still need to stay very cautious and protect yourself. Nevertheless, the vaccines may offer us some level of confidence in creating immunity. However, if you are not vaccinated, you will have zero immunity from the virus. Sothie, your explanation is very reasonable. I miss the time when we could host gatherings easily. I just want the situation to be normal as soon as possible.
Sothie: Get vaccinated!
Related Articles